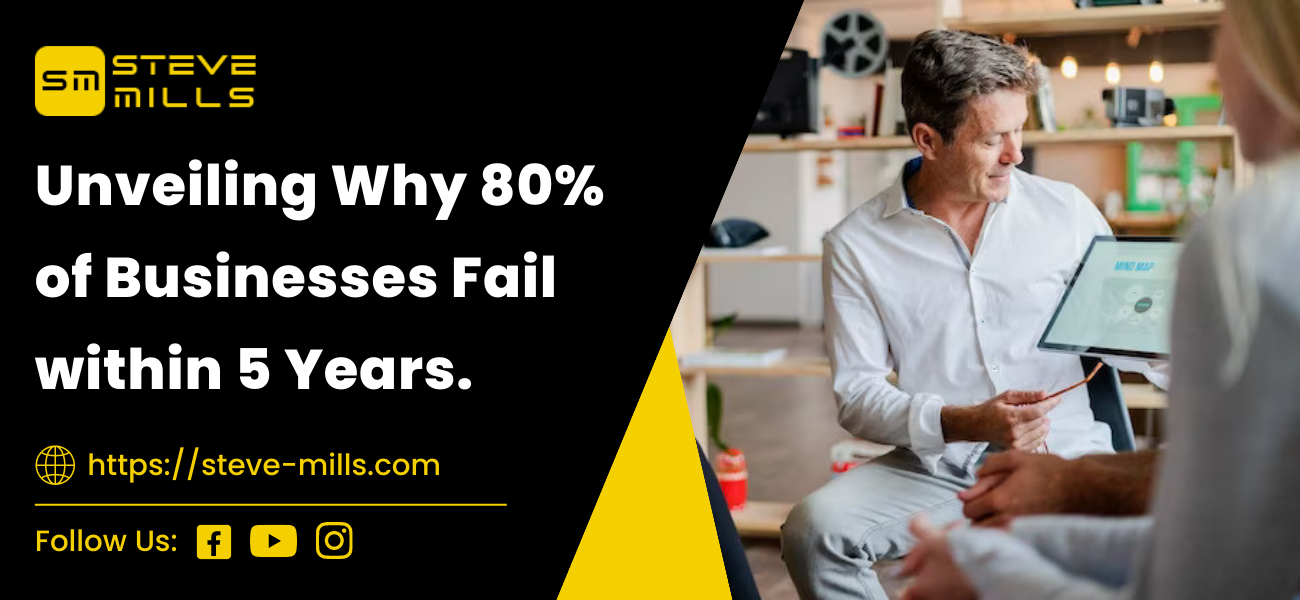 August 1, 2023

stevemills

0
Becoming a leader in your industry doesn't come out of being good. If you want to cut through the competition and rise to the top, you need to know the truth about sales and marketing. Your quest starts now!
We've all been told a pack of lies!
"Competition is good…"
"When times are tough, it is not good to continue to market your business"
"Networking is great for growing a business"
"Marketing is a waste of money"
"Average is acceptable…"
"The economy is hard, so my business has to suffer"
"You have to set realistic goals…"
"You should not send out too many social media posts, or you will be bombarding people"
"E-mail marketing is dead"
"SEO is far too complicated for non-SEO experts"
"You don't need sales training"
"Asking for a referral is like begging".
By now you know that all of those are lies. In fact, they're the poison that is holding you back.
If you want to become a leader in your industry, you have to completely change the way you think about yourself, your sales and marketing skills, and your company.
You have a responsibility to do whatever it takes to make sure people choose you over the competitor because you know that you're the best choice in the industry.
Forget doing OK…
Forget doing OK, being average, being on social media, but doing very little. Most businesses are average and 80% of them go bust within 5 years. Instead of setting goals based on everything around you, disregard everything except your desire to be better.
So my advice is to set massive goals and not reasonable ones. Aim for ten times your best month ever. Try to multiply your list by ten by the end of the quarter. Set goals so big that it would make your competitors cry if you achieved them.
That is the domination mindset. And once you accept that for yourself, you've got four other sets of people to convince: your customers, your competitors, your employees, and your investors/shareholders. It's not enough to be sold on yourself, you have to sell them too. Play your cards right and your domination could be so complete, that when anyone considers your industry, the only business that comes to mind is yours.
That will only come about by following up your massive goals with MASSIVE action. No matter what your limitations are there's always a way for you to outmaneuver, outwork, or outspend your competitors.
Do what they won't do. This will separate you from the rest of your market. This is what will allow you to achieve extraordinary success.
Here are four keys to your success and they are:
The Truth about Marketing
Most businesses are terrible at marketing. This is either because they don't spend any time or money on it, or because they're completely incompetent.
In many cases, significantly increasing your marketing efforts is a short-cut way to quickly gain popularity and overcome one of the biggest problems facing small businesses in OBSCURITY.
If you master the marketing game, you could easily appear to be the top dog and most trusted business in your market.
Remember, your goal is to be the natural choice for your market whenever someone thinks of what you do.
For example, I want to be the obvious choice when someone needs help growing their business.
Constantly appearing and reappearing in your prospects' lives is the only way to get their attention, keep it, and multiply it. And as Grant Cardone always says, "Money follows attention."
Possible unique advantages you can investigate:
Massively increase your social media presence
Push out massive amounts of content
Increase your budgets for paid ads on search engines and social media
Use geo-targeting and retargeting
Use email marketing and send out emails at least once per week, if not more than once
Test the use of direct mail. No one else is using it, so it might work for you.
The Truth about Selling
The statistics for most companies' sales teams are terrible. Most salespeople are untrained, undertrained, and underperforming. A vast majority of sales departments don't even "reach target." And in my experience working with thousands of sales teams, the typical response to missed targets is a shoulder shrug from the sales manager, or director who goes about his merry way.
I recently asked about 1,000 business owners who were listening to a talk I gave in Birmingham, if they were responsible for selling. 99% said yet they were. I then asked them if they had done any sales training in the last year and about 50 of them had. What were the other 950 thinking? They were thinking about losing money. They don't care. And they don't train properly.
Odds are, your industry is full of businesses that have underperforming salespeople and teams, which means, they're losing sales every day… and that's a huge opportunity for you. They're sending away would-be customers that simply need somebody who can help them find a solution to a problem.
That's why a simple way for you to quickly increase your dominance in the industry is to get serious about training yourself, or your sales team to be the best that they can be. Click here
Look at it this way – If you get 10 leads and you currently convert an average of 4 of them into sales and by training yourself, or your team you were able to increase your number from 4 out of 10 to 6 out of 10 (a 20% increase) over time you would grow your business by 50%.
I've worked with thousands of business owners that grew their businesses by simply training themselves or their sales teams to perform at a higher level.
In addition to training, consider creating a commission-based compensation structure to incentivize greater sales performance. Then expand that commission compensation to every employee in your company. This effectively transforms your whole company into a sales force.
I do this in my own businesses and it works wonders. Any employee in my company from my sales team to my PA, to my video editors can earn commissions on any of the products they sell.
How many business owners do you know who do that? Nobody and that's because they think small. The more people I have selling for me, the more money I make. The more money I make, the more I can expand and dominate my industry. Why not let them share a piece of the pie? It's simple and it gives me an edge. Try it out for yourself.
Diversify your offers
Experiment with offering different products, services, or packages than your competitors. By expanding your line of products, you open the door to a greater diversity of customers. More products and services mean more opportunities to solve problems your competitors can't/won't solve.
If nobody else does free delivery? Do it.
If no one else offers a lifetime guarantee? Do it.
If no one offers a payment plan? Then why don't you?
If no one else throws in the kinds of free bonuses you can. Then do this. It's a no-brainer.
Collaboration
I already mentioned one form of collaboration above by offering commission-based incentives to get your employees motivated to sell for you. But now let's talk about bigger-picture.
If you're a smaller business in your field, one of the quickest ways to elevate your status is to collaborate with other big names in your industry. This is called "Joint Venture, or JV marketing" and one of my biggest regrets is I didn't start doing this sooner. If you want to get big fast, you need to start associating yourself with other big names in your field. (I learned this from Jay Abraham often called the worlds leading marketer).
You have much more to gain than to lose from this type of collaboration. If your business is smaller, then the customers you already have chose you instead of the bigger guy. It's unlikely that you'll lose customers to somebody who they already passed on once before.
By collaborating with competitors, you introduce yourself to their audience and get more people to know you. Maybe they never knew you existed before. Now they do. And they see you collaborating with someone they know and trust. Suddenly you broaden your pool of potential customers, which is a chance to interact with them and prove your superiority.
Additionally, you can collaborate with your current customers by introducing a referral programme. Similar to commission-based sales, you can effectively turn every customer into an extended salesforce by offering incentives to refer more business to you. How powerful is that?
Finally, you can really ramp up your game by collaborating with businesses outside your industry that your ideal prospects would still be interested in.
For example, if you are a business advisor, you could partner with a training company. They could offer your services to the people who they have just trained for a commission. Or, if you run a car repair garage you could partner with a local car wash to provide free washes. Do you get the idea?
Most business owners don't think like this and if they do, they don't do much of it. Most businesses don't set big goals and business advisors often say 'Let's be realistic'. Most businesses don't dedicate MASSIVE action to achieve those goals.
Do what I recommend and work with me to springboard your business forward. I know I can help you because I've helped thousands of businesses like yours for over 28 years. You have the power to grow bigger, faster, and more profitably than any of the small thinkers ever thought possible. Want to know more? Click here.
Are you ready to dominate to win? Hit "reply" and tell me your thoughts. And if you have any questions, do not hesitate to book a meeting.
To find out more from me, and to subscribe to my stuff – see the links below:
Steve Mills Business Growth Advisor YouTube Channel – https://www.youtube.com/channel/UC6U1XU5YuFRk8TECjWBLUNA/videos?view_as=subscriber
The RESULTS Podcast – On iTunes – https://podcasts.apple.com/us/podcast/the-steve-mills-results-podcast/id1468660470?uo=4
The Steve Mills RESULTS Mastery University – https://steve-mills.com/the-results-mastery-university/
RESULTS Mastery Programme – https://steve-mills.com/results-mastery/
Recommended websites – https://steve-mills.com/recommended-websites/
Connect to Steve on LinkedIn – https://www.linkedin.com/in/marketingadvice/
To give me a recommendation on Trustpilot click here
To recommend me on Google click here
RESULTS Mastery Your Key To Success
We bring in-depth knowledge and functional expertise with a RESULTS Focussed perspective.
Our RESULTS Mastery Program focuses on everything you need to grow your business from anywhere around the world.