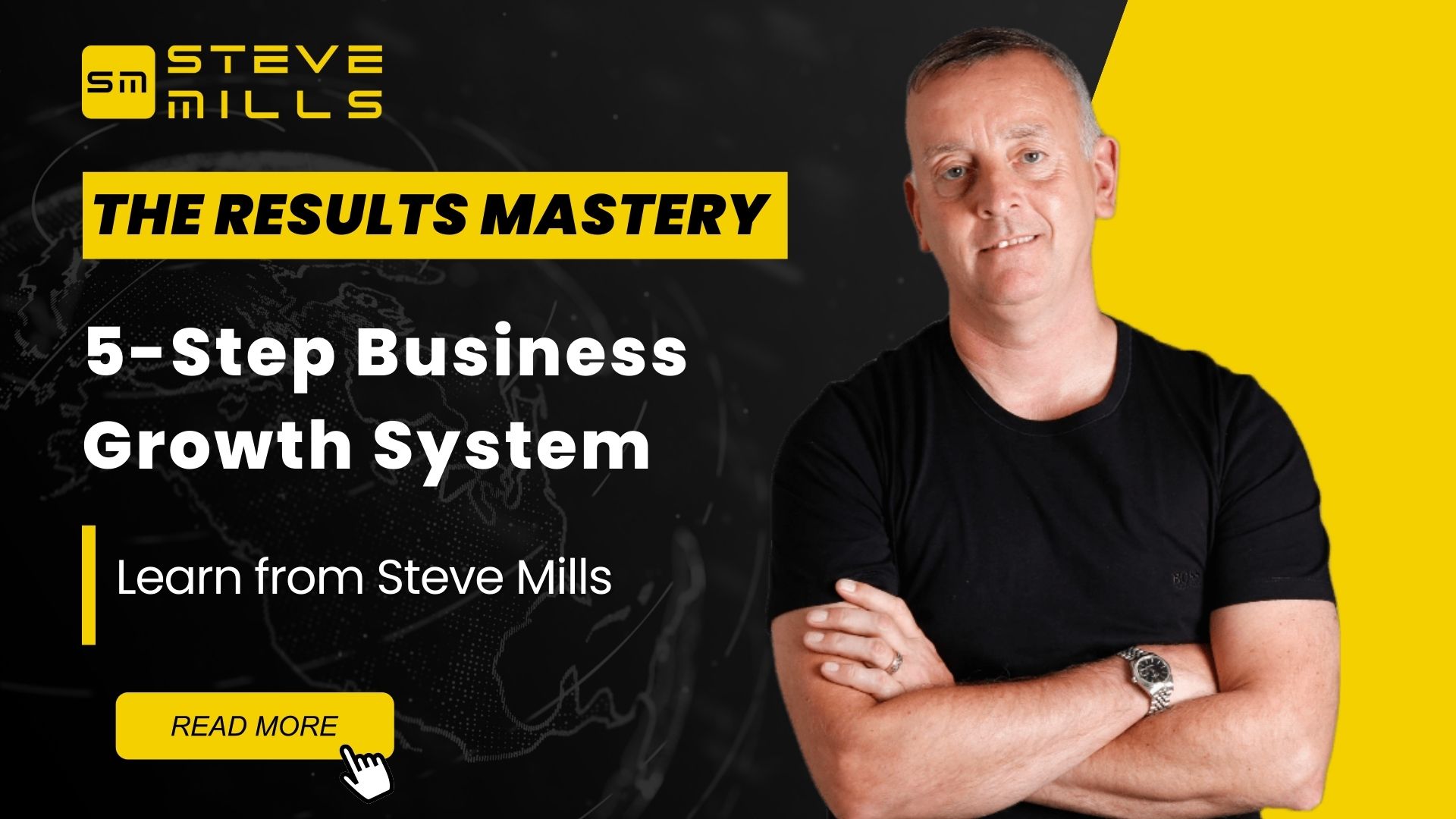 August 24, 2023

stevemills

0
In the fast-paced and ever-evolving business world entrepreneurs and companies are constantly seeking proven strategies to achieve sustainable growth and success.
The journey to business expansion requires more than just ambition; it demands a strategic approach that addresses every facet of the enterprise. This is where The RESULTS Mastery 5-Step Business Growth System steps in as a guiding light for those looking to elevate their business to new heights.
Step 1: Crowd development
The first phase of developing a marketing plan is to work on developing your crowd. This is a crowd of people that you are able to send Marketing messages out to. Often referred to as a database.
This could be a database of LinkedIn contacts, social media contacts, or perhaps an email list.
The question is – How big is your list and what are you doing to grow your list?
Step 2: Capture visitors
Step two is all about turning strangers into people who know, like and trust you. In essence, it's about getting people to respond to the marketing messages that you're sending out. In other words, getting them to respond to your email by emailing back to you. It could be getting them to respond by messaging you on LinkedIn and so on and so forth.
The question is – How good are you are getting this level of communication with your list?
Step 3: Convert people into leads
The next phase is turning these people into people who are willing to take action. This action could include booking a meeting, attending a webinar, downloading a free report, or perhaps watching a video. In this section of your marketing plan you need to think about what are you going to do to build and improve the relationship with your potential clients.
The questions are – How many meetings are you getting each month? How many people attend your events? How many people are listening to your Podcast, or watching your YouTube Videos?
Step 4: Getting an easy first sale
The next step involves getting that initial first easy sale. Often the first sale can be the hardest sales and so one of the strategies to get that sale must be to make it as easy as possible. For example, high of a service called the Results Mastery University. This is an easy first sale for me because I give people access to my community, my contacts all my training programs as well as over 250 online video sales marketing and business growth training sessions for £25 per month. Making this a very easy sale or as I like to call it a no-brainer. I then have to take them to the next level which is…
The question is what are you going to do in order to increase your sales by winning easy first sales?
Step 5: Continuity, or creating Raving Fans
The fifth and final step of the Results Mastery business growth five-step system is turning that initial sale into an ongoing stream of income. An example of this would be my 12-month Results Mastery program.
The question is – Do you have a continuity program? Another word is a way of keeping the client buying from you again and again? For example, I recently bought into Mercedes continuity program. Instead of paying for my servicing and getting a bill of £500 plus every time I needed my car servicing. I signed up to pay Mercedes £50 per month and therefore cover the cost of servicing on a monthly basis thereby giving them guaranteed income every single month and at the same time tying me into Mercedes rather than me going elsewhere.
In conclusion
The RESULTS Mastery 5-Step Business Growth System offers a comprehensive and actionable framework for entrepreneurs and businesses aiming to achieve remarkable growth. By combining research, planning, marketing, execution, and sustainability, this system equips businesses with the tools they need to navigate the complexities of the business landscape and emerge as leaders in their respective industries. Success is not just about making it to the top; it's about staying there through strategic and sustainable practices. The RESULTS Mastery System paves the way for businesses to achieve just that.
To find out more from me, and to subscribe to my stuff see the links below:
Steve Mills Business Growth Advisor YouTube Channel – https://www.youtube.com/channel/UC6U1XU5YuFRk8TECjWBLUNA/videos?view_as=subscriber
The RESULTS Podcast – On iTunes – https://podcasts.apple.com/us/podcast/the-steve-mills-results-podcast/id1468660470?uo=4
The Steve Mills RESULTS Mastery University – https://steve-mills.com/the-results-mastery-university/
RESULTS Mastery Programme – https://steve-mills.com/results-mastery/
Recommended websites – https://steve-mills.com/recommended-websites/
Connect to Steve on LinkedIn – https://www.linkedin.com/in/marketingadvice/
To give me a recommendation on Trustpilot click here
To recommend me on Google click here