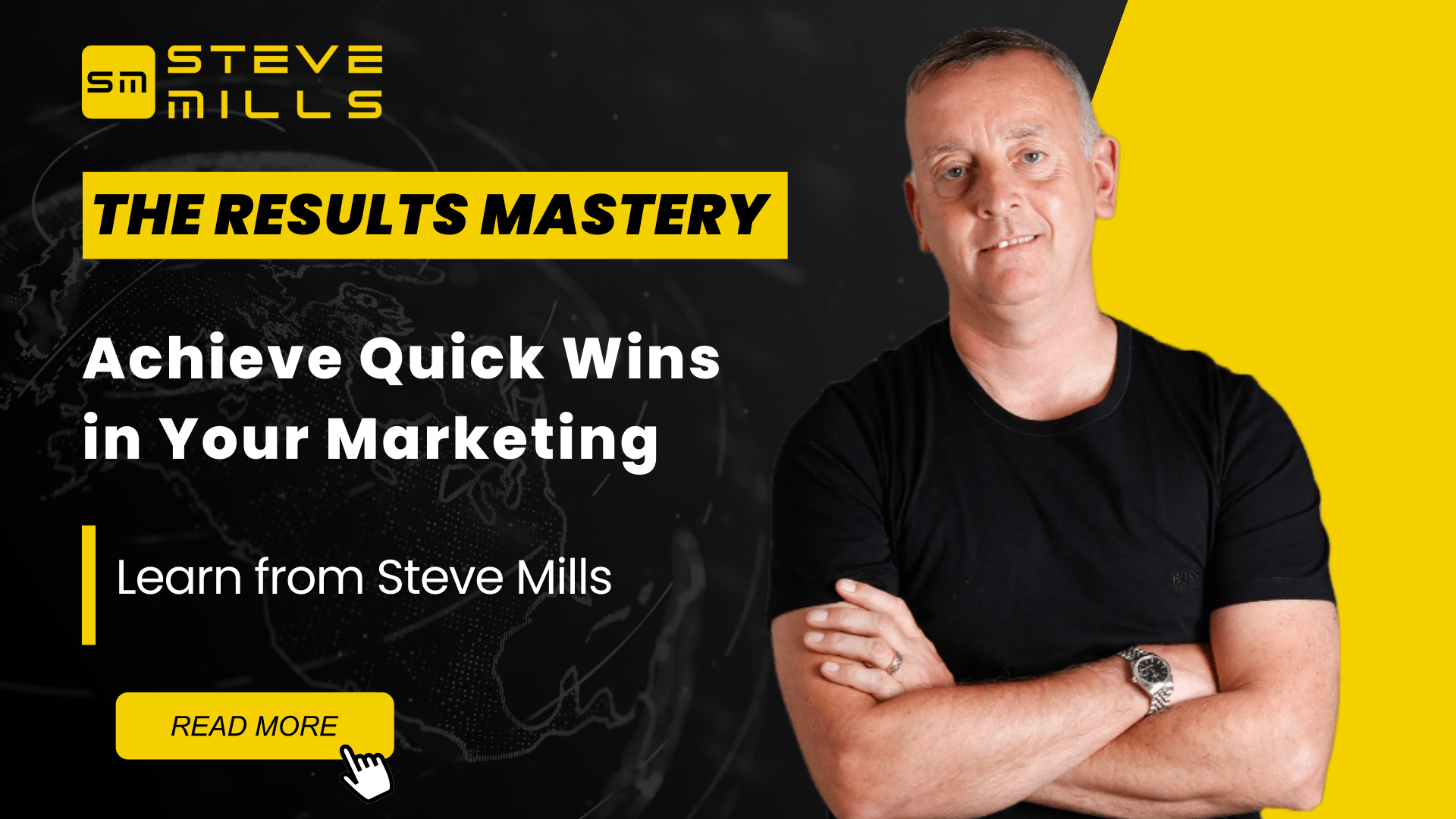 August 25, 2023

siddharth

0
How to Create Quick Wins in Your Marketing | Expert Tips by Steve Mills
In the fast-paced world of marketing, achieving quick wins is essential for maintaining momentum and driving business growth. If you're looking to enhance your marketing efforts and experience rapid results, Steve Mills is here to guide you. With years of expertise in the field, Steve offers actionable insights that can transform your marketing strategy. Explore his website and RESULTS Mastery program to uncover a treasure trove of marketing wisdom.
When it comes to marketing, time is of the essence. Implementing strategies that yield quick wins can make a significant difference in your overall success. Steve Mills, a renowned marketing expert, understands the value of immediate results in the ever-evolving business landscape. Here's how you can create quick wins in your marketing efforts:
1. Crafting Compelling Content Producing engaging content is a cornerstone of effective marketing. Steve Mills' insights can help you tailor your content to captivate your target audience, driving higher engagement and conversions.
2. Mastering Social Media Learn how to leverage various social media platforms for maximum impact. Steve's proven techniques can guide you in creating posts that resonate with your audience and generate quick, tangible results.
3. Optimizing SEO Strategies Discover the power of SEO in boosting your online visibility. Steve Mills' expert advice can assist you in implementing SEO tactics that lead to better search engine rankings and increased organic traffic.
4. Nurturing Leads Effectively Convert leads into customers more efficiently through expert nurturing techniques. Steve's guidance can help you streamline your lead nurturing process and drive quicker conversions.
5. Enhancing Email Campaigns Revamp your email marketing campaigns with Steve's tips. From compelling subject lines to persuasive content, optimize every element to achieve higher open and click-through rates swiftly.
6. Pay-Per-Click Mastery Explore the world of pay-per-click advertising with Steve Mills. Learn how to create targeted ads that yield immediate results and a high return on investment.
Explore the RESULTS Mastery Program:
For a comprehensive and in-depth understanding of these strategies, delve into Steve Mills' RESULTS Mastery program. This program offers step-by-step guidance, real-world examples, and personalized insights to transform your marketing efforts. Whether you're a seasoned marketer or just starting, the RESULTS Mastery program equips you with the tools you need to achieve rapid success.
Stay Updated with Steve Mills:
Subscribe to Steve's YouTube channel for regular doses of valuable marketing insights. From trend analyses to strategy breakdowns, his videos offer a wealth of knowledge that can keep you ahead of the curve. Don't miss out on the latest trends and strategies in business growth and marketing.
Connect with Steve Mills
Steve Mills' insights go beyond the RESULTS Mastery program. Connect with him on LinkedIn at https://www.linkedin.com/in/marketingadvice/ for a regular dose of valuable marketing advice and industry updates.
Stay Updated with Steve's YouTube Channel
Subscribe to Steve Mills' YouTube channel at https://www.youtube.com/@SteveMillsresults-channel and stay informed about the latest trends and strategies in business growth and marketing. With Steve's engaging videos, you'll always be in the know, giving you a competitive advantage in the market.
Get in Touch:
For inquiries or assistance, reach out to Steve's dedicated team at [email protected]. If you prefer a more direct approach, give them a call at 07977 074 497. They're ready to provide the support and information you need to supercharge your marketing efforts.
In conclusion, quick wins in marketing are within your reach, thanks to Steve Mills' expert guidance. By following his strategies and exploring the RESULTS Mastery program, you can achieve rapid results and elevate your marketing game. Stay connected through LinkedIn and YouTube to remain at the forefront of industry trends. When it comes to effective marketing, Steve Mills is your ultimate partner for success.