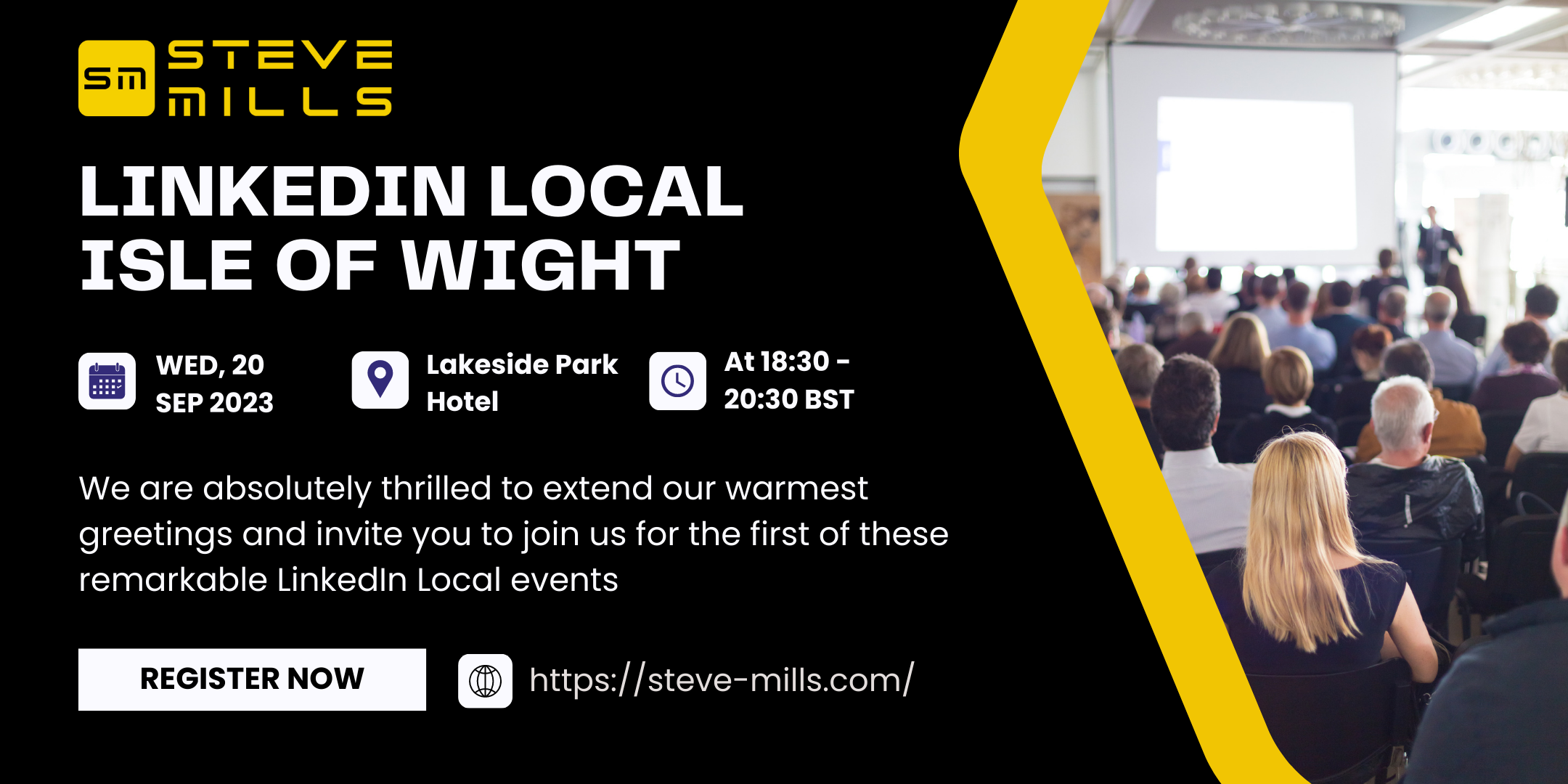 July 9, 2023

stevemills

0
A networking evening at the Lakeside Hotel, Wooton Bridge, on Wednesday 20th September from 6.30pm to 8.30pm
Dear business owner,
We are absolutely thrilled to extend our warmest greetings and invite you to join us for the first in what I hope to be a monthly event that brings together professionals, thought leaders, and visionaries from businesses on the Ilse of Wight. Get ready to experience a groundbreaking occasion filled with inspiring talks, engaging discussions, and unparalleled networking opportunities.
The picturesque Isle of Wight is not only renowned for its stunning landscapes but also for its vibrant community of professionals who are passionate about leveraging the power of LinkedIn. This unique event will showcase the very best of both, offering an unforgettable experience that will elevate your career and expand your professional horizons.
During LinkedIn Local on the Isle of Wight,
you can look forward to a diverse range of activities tailored to suit your needs and interests. Gain valuable insights from industry experts through captivating keynote speeches and thought-provoking panel discussions. Participate in interactive workshops designed to enhance your professional skills, refine your personal branding, and unlock new career opportunities. Connect with like-minded individuals, forge meaningful connections, and exchange ideas that will shape the future of your professional journey.
The scenic beauty of the Isle of Wight will serve as the backdrop for this extraordinary event, providing a serene and inspiring atmosphere that encourages creativity and collaboration. Immerse yourself in the island's natural wonders, whether it's strolling along the breathtaking coastline, exploring historical landmarks, or savouring the delicious local cuisine. You'll have plenty of opportunities to unwind, relax, and rejuvenate while building lasting connections with fellow professionals.
We believe that LinkedIn Local on the Isle of Wight will leave an indelible mark on your professional life, empowering you with knowledge, connections, and inspiration that will propel your career to new heights. So mark your calendars, prepare to embark on an incredible journey, and get ready to ignite your professional potential.
Join us at LinkedIn Local on the Isle of Wight
where connections are made, ideas flourish, and dreams become reality. We can't wait to welcome you to this enriching event and witness the incredible transformations that will unfold.
See you there!
Steve Mills – Event Organiser LinkedIn Local Isle of Wight
To book your place email Steve at [email protected]
General ticket £25 + VAT – Sponsor £100 + VAT
Date – 20th Septemberer 2023
Time – 6.30pm to 8.30pm
Venue – Lakeside Hotel and Spa, Wooton Bridge, Ilse of Wight, PO33 4LJ
AGENDA
6.30pm – Networking with other members and grab a free glass of wine, or fruit juice
7.15pm – Message from our Sponsors
7.30pm – LinkedIn Mastery training with Steve Mills
8pm – Last chance to network with other business owners
https://www.eventbrite.co.uk/e/linkedin-local-isle-of-wight-tickets-668292519917?aff=oddtdtcreator
To find out more from me, and to subscribe to my stuff see the links below:
Steve Mills Business Growth Advisor YouTube Channel – https://www.youtube.com/channel/UC6U1XU5YuFRk8TECjWBLUNA/videos?view_as=subscriber
The RESULTS Podcast – On iTunes – https://podcasts.apple.com/us/podcast/the-steve-mills-results-podcast/id1468660470?uo=4
The Steve Mills RESULTS Mastery University – https://steve-mills.com/the-results-mastery-university/
RESULTS Mastery Programme – https://steve-mills.com/results-mastery/
Recommended websites – https://steve-mills.com/recommended-websites/
Connect to Steve on LinkedIn – https://www.linkedin.com/in/marketingadvice/
To give me a recommendation on Trustpilot click here
To recommend me on Google click here