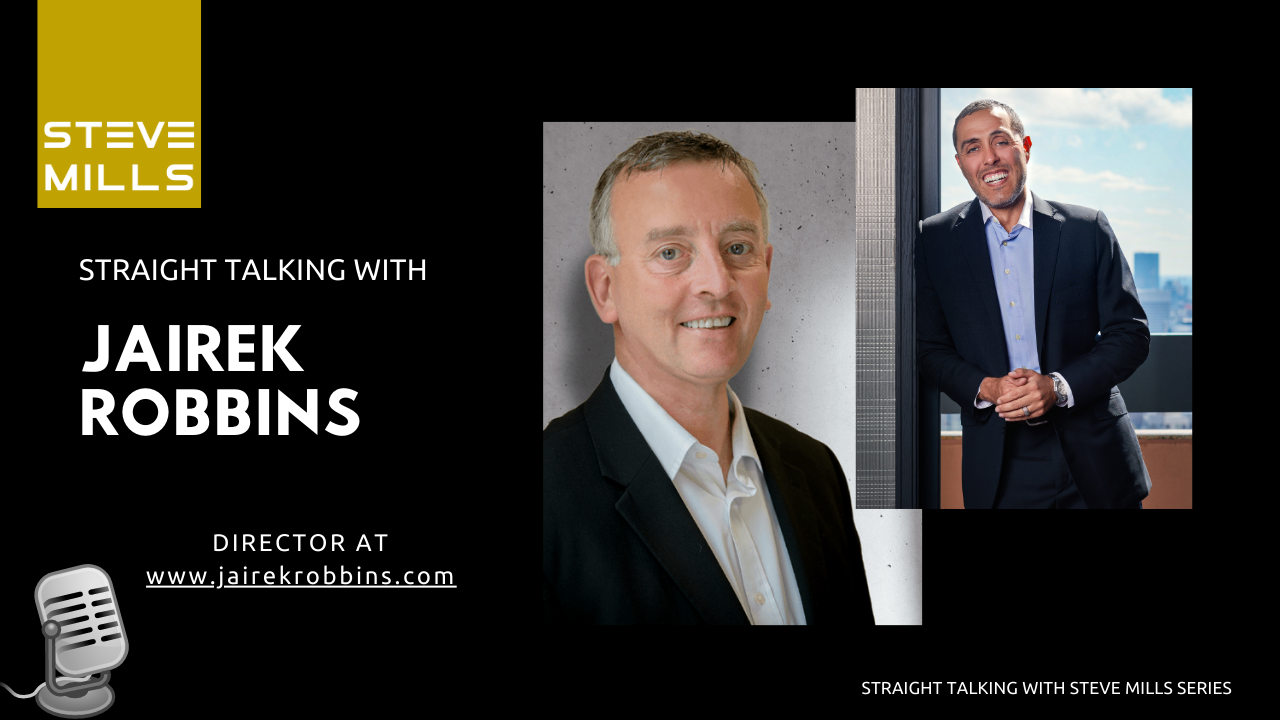 July 6, 2023

stevemills

0
I am honoured and pleased to say that on Wednesday 12th July at 5.30 pm I interview one of the world's leading coaches Jairek Robbins live on LinkedIn, Facebook, YouTube, iTunes and Amazon Music.
How cool is that?
During the interview, Jairek spoke about many different things but a couple of thoughts that I had based on his ideas were the idea of the hub around four key areas of life. Watch the video to learn more…
Here is a bit about Jairek
Jairek is a best-selling author, decorated performance coach, and speaker, Jairek Robbins is a man dedicated to helping professionals like you Achieve Success by Living With Purpose in your life and business!
At only 23 years old, Jairek was awarded the Congressional Award (Gold Medal) from the United States Congress. He has conducted trainings for a variety of companies & organizations including…Harvard University, The United States Marines, The United States Air Force Special Forces, UBS, BMW, eXp Realty, Major League Baseball teams, and members of the U.S. Olympic team.
He is a trusted advisor and board member to a variety of different companies in addition to his most recent project as PRESIDENT & Chief Strategy Officer of SUCCESS Enterprises. Today, the 38-year-old with almost two decades of performance coaching experience continues to unlock secrets for maximizing performance and organizational success (and he's just getting started).
As an innovator, Jairek is applying his own philosophy and living a life of adventure, philanthropy, and entrepreneurship. Whether it's cage diving with great white sharks, hanging with silverbacks in Rwanda, white water rafting down the Nile, or working as a volunteer in underdeveloped regions Jairek is out in the world living fully, loving deeply, and striving to do something that matters.
Learn more about him at www.jairekrobbins.com
To find out more from me, and to subscribe to my stuff see the links below:
Steve Mills Business Growth Advisor YouTube Channel – https://www.youtube.com/channel/UC6U1XU5YuFRk8TECjWBLUNA/videos?view_as=subscriber
The RESULTS Podcast – On iTunes – https://podcasts.apple.com/us/podcast/the-steve-mills-results-podcast/id1468660470?uo=4
The Steve Mills RESULTS Mastery University – https://steve-mills.com/the-results-mastery-university/
RESULTS Mastery Programme – https://steve-mills.com/results-mastery/
Recommended websites – https://steve-mills.com/recommended-websites/
Connect to Steve on LinkedIn – https://www.linkedin.com/in/marketingadvice/
To give me a recommendation on Trustpilot click here
To recommend me on Google click here