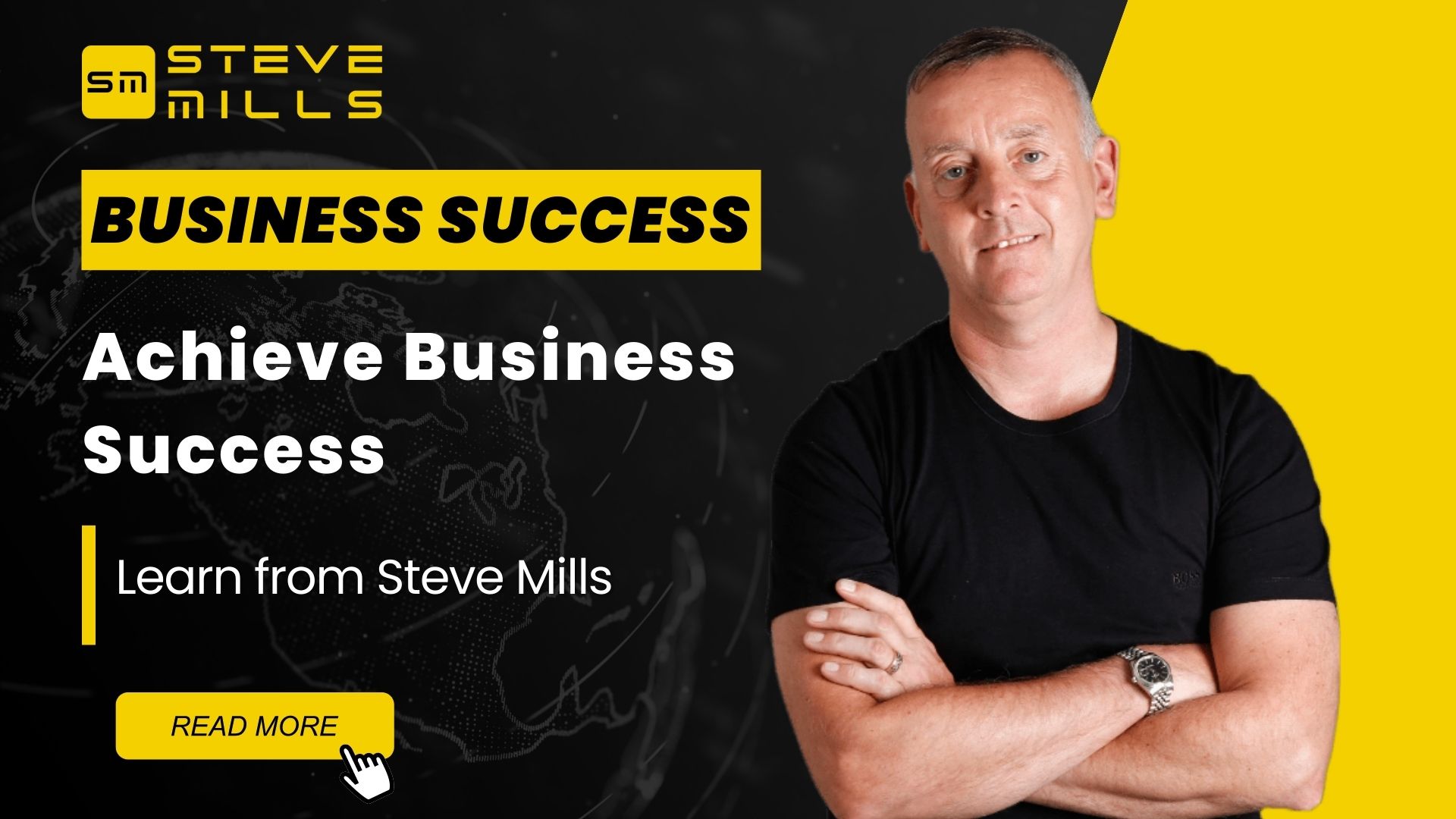 August 8, 2023

stevemills

0
In the fast-paced world of business, achieving remarkable success requires more than just hard work; it demands strategic thinking, innovative approaches, and the guidance of seasoned experts. If you're an entrepreneur or business owner with aspirations to take your venture to new heights, then you're in luck. Steve Mills, a renowned Business Growth Advisor based in the UK, offers you the golden opportunity to propel your business forward through his RESULTS Mastery strategies.
Here's a glimpse of what you can expect from the RESULTS Mastery program:
In-depth market research: Discover your target audience's pain points, desires, and motivations to craft compelling marketing messages that resonate.
Content marketing excellence: Learn how to create valuable, customer-centric content that answers their questions and positions you as the trusted expert.
Lead generation strategies: Explore powerful lead generation tactics, both online and offline, to attract qualified leads and expand your customer base.
Conversion optimization: Master the art of turning leads into paying customers by implementing effective sales funnels, persuasive copywriting, and conversion rate optimization techniques.
Customer retention and loyalty: Discover proven strategies to nurture customer relationships, foster loyalty, and generate repeat business.
Data-driven decision-making: Harness the power of data and analytics to make informed marketing decisions and maximize your return on investment.
Unveiling RESULTS Mastery University
Welcome to RESULTS Mastery University, an educational platform curated by Steve Mills himself. With decades of experience in helping businesses thrive, Steve Mills has distilled his knowledge and expertise into actionable strategies, and he's ready to share them with you. Whether you're just starting out or seeking to enhance an established enterprise, this university-style program offers insights that can revolutionize the way you approach business.
The Power of Proven Strategies
In the ever-evolving landscape of business, there's no substitute for strategies that have been tested and proven effective. Steve Mills understands this truth, and through RESULTS Mastery University, he imparts a collection of battle-tested tactics that can drive your business towards unprecedented growth. From lead generation to conversion optimization, from building a robust online presence to mastering the art of customer engagement, these strategies cover a wide spectrum of business essentials.
Your Guide: Steve Mills
At the heart of this educational journey is the esteemed Steve Mills. Serving as a Business Growth Advisor, Steve Mills has earned a reputation for his profound insights into the intricacies of business expansion. His understanding of market dynamics, consumer behavior, and effective marketing techniques is unparalleled. With a focus on the UK business landscape, Steve Mills is attuned to the unique challenges and opportunities that businesses in the region face.
Empowering Your Business Success
Are you ready to transform your business? Steve Mills' RESULTS Mastery University equips you with the tools, knowledge, and confidence needed to thrive. Whether you're struggling with brand visibility, aiming to skyrocket your sales, or wanting to refine your business model, this program offers tailor-made solutions to your specific needs. The website provides an array of resources, testimonials, and case studies that showcase the real-world impact of Steve Mills' strategies.
Connect with Steve Mills
Should you wish to embark on this transformative journey or simply learn more about what Steve Mills has to offer, don't hesitate to get in touch:
Address: Berryfields House, Bury Lane, Merstone Isle of Wight, PO30 3DG
Phone: 07977 074 497
Email: [email protected]
Conclusion
In the competitive realm of business, staying ahead demands constant innovation and a willingness to embrace game-changing strategies. Steve Mills' RESULTS Mastery University presents an opportunity to learn from a seasoned expert who has not only witnessed the evolution of the business world but has actively contributed to it. With a focus on tangible results and business growth, this program is your gateway to a brighter and more successful future.
Don't let your business stagnate when you can supercharge its growth with proven strategies. Visit RESULTS Mastery University now and join hands with Steve Mills to unlock your business's true potential.
To find out more from me, and to subscribe to my stuff – see the links below:
Steve Mills Business Growth Advisor YouTube Channel – https://www.youtube.com/channel/UC6U1XU5YuFRk8TECjWBLUNA/videos?view_as=subscriber
The RESULTS Podcast – On iTunes – https://podcasts.apple.com/us/podcast/the-steve-mills-results-podcast/id1468660470?uo=4
The Steve Mills RESULTS Mastery University – https://steve-mills.com/the-results-mastery-university/
RESULTS Mastery Programme – https://steve-mills.com/results-mastery/
Recommended websites – https://steve-mills.com/recommended-websites/
Connect to Steve on LinkedIn – https://www.linkedin.com/in/marketingadvice/
To give me a recommendation on Trustpilot click here
To recommend me on Google click here