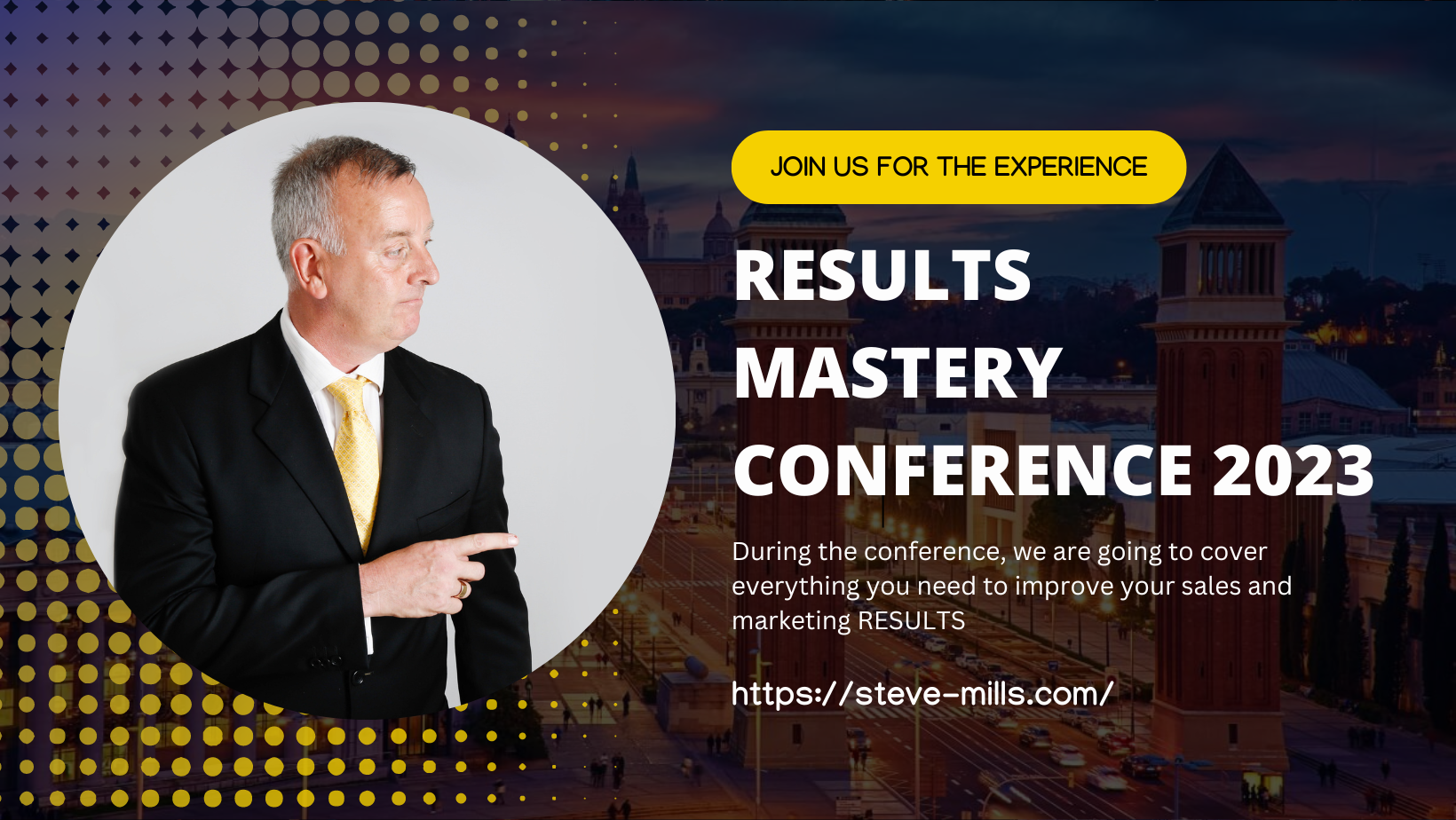 January 15, 2023

siddharth

0
RESULTS Mastery Conference -
barcelona 2023
The RESULTS Mastery Conference is on Friday 18th, and Saturday 19th, Sunday 20th and Monday 21st September 2023.  Each day we work 9am to 12noon, then the afternoon is spent enjoing Barcelona.  We fly out on Thursday and back on Monday.
The Conference is your opportunity to join current members of RESULTS Mastery at their two-day Annual Conference.
If you're serious about growing your business, this four morning Conference is for you.
Steve has 27 years of experience and success in helping businesses achieve significant growth, and he's put all of his knowledge into this comprehensive programme. 
FREE BONUS 1
Everyone who attends this online training gets a free 121 meeting with Steve to talk about how you can create more sales.
FREE BONUS 2
As a delegate, you will get a free copy of Steve's report - "The Four Step System To Better RESULTS".
FREE BONUS 3
Your website is essential to the success of your business. So, Steve will produce a video-based report on your website.
WHY IS IT IMPORTANT TO YOU?
When small business owners set out to achieve their goals, they often find that the path to success is not always clear.
It takes a lot of hard work and dedication to get where you want to go.
However, with the right tools and resources, anything is possible.
The RESULTS Mastery Conference is one of those valuable resources.
This community provides members access to a wealth of information and training on achieving business success.
From goal-setting marketing techniques and sales, this conference offers everything you need to get your business to the next level.
But what makes attending this event so crucial for small business owners? The answer is simple:
INCREASED SALES
IMPROVED LEAD GENERATION
MORE PROFITABILITY
BETTER BUSINESS
BETTER RESULTS
WHAT DOES IT COVER?
During the conference, we are going to cover everything you need to improve your sales and marketing RESULTS, including:
Your brand development
How to increase your current sales and marketing RESULTS
Creating even more Multiple Streams of Income
Creating landing pages
Increasing and improving your prospect communication
Using the latest technology
Marketing without Money Strategies
How to make £100k on LinkedIn
These key areas are what make The RESULTS Mastery Conference the most efficient two days that you are going to spend this year.
The RESULTS Mastery Conference 2023 is the perfect programme for growing your business.