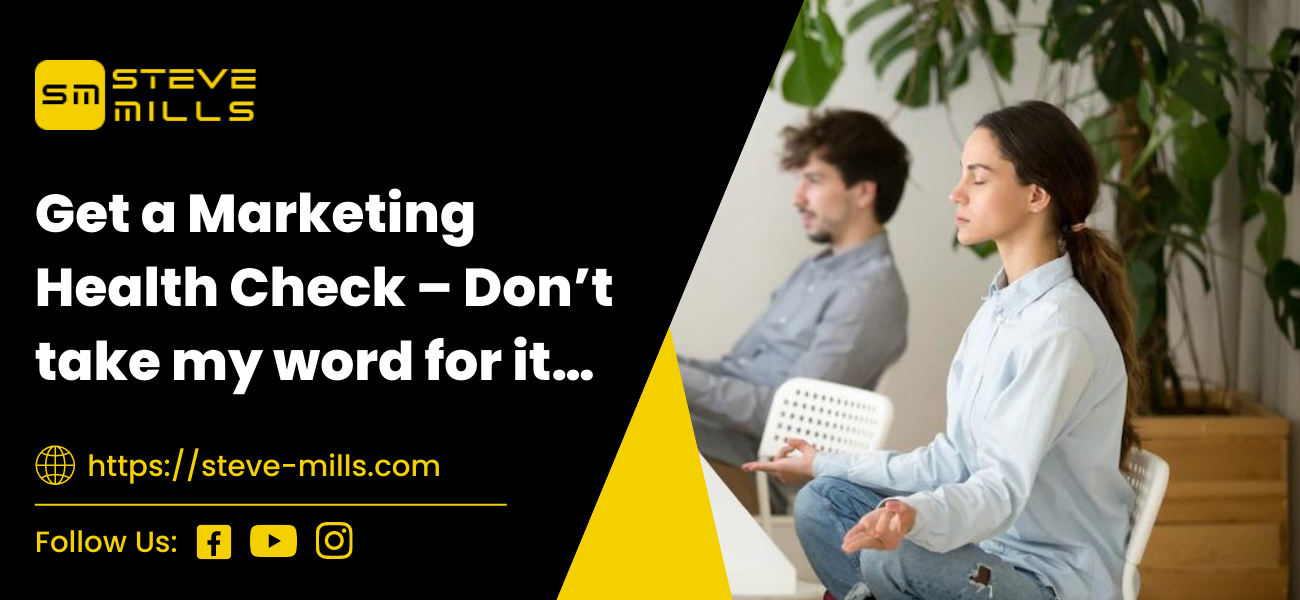 March 25, 2021

Steve Mills

0
In today's competitive business landscape, staying ahead of the curve is essential for success. To achieve sustained growth and profitability, it's crucial to regularly evaluate and optimize your marketing strategies. One effective way to accomplish this is by undergoing a Marketing Health Check—a comprehensive assessment of your marketing efforts. In this blog post, we will delve into the concept of a Marketing Health Check and explore the experience of Michael Brook, the Managing Director of 'My Expertise Online,' who worked with renowned sales, marketing, and business growth expert, Steve Mills. Discover how Steve Mills' expertise and innovative approaches can revolutionize your business and drive remarkable results.
Discover the Power of a Marketing Health Check
A Marketing Health Check is a strategic evaluation of your marketing activities to identify areas of improvement, discover untapped opportunities, and ensure alignment with your business objectives. It involves analyzing various aspects of your marketing efforts, including your target audience, messaging, branding, digital presence, lead generation tactics, and conversion strategies. By undergoing a Marketing Health Check, you gain valuable insights into the effectiveness of your marketing initiatives and obtain actionable recommendations for optimizing your efforts.
Meet Steve Mills, the Sales, Marketing, and Business Growth Expert
Steve Mills, a former international sportsman turned business growth advisor, coach, and trainer, has become a trusted name in the field of sales and marketing. With a wealth of experience and expertise, Steve has helped numerous businesses across the globe achieve unprecedented growth and profitability. He is the author of four influential books and has shared his insights with audiences in various countries, including Singapore, Malaysia, Dubai, Abu Dhabi, Saudi Arabia, Australia, the USA, Switzerland, Ireland, and the UK.
Michael Brook's Testimonial: Working with Steve Mills
Michael Brook, the Managing Director of 'My Expertise Online,' sought to take his business to new heights over a decade ago. Recognizing the need for expert guidance, Michael turned to Steve Mills for a Marketing Health Check. Little did he know that this initial interaction would mark the beginning of a long-lasting partnership. Since then, Michael and Steve have worked together to enhance the effectiveness of 'My Expertise Online's' marketing strategies and unlock new revenue streams.
In Michael's own words, "Working with Steve has been a game-changer for our business. His Marketing Health Check provided us with a clear roadmap for optimizing our marketing efforts. By implementing his recommendations, we have witnessed significant improvements in lead generation, customer engagement, and overall business performance. Steve's expertise and proven strategies have undoubtedly contributed to our success."
Steve Mills' "Parthenon of Business Results" Approach
Steve Mills' approach to business growth, known as the "Parthenon of Business Results," is a holistic and comprehensive framework that enables businesses to achieve remarkable outcomes. This methodology focuses on four essential pillars:
Strategy: Develop a well-defined marketing strategy aligned with your business goals and target audience.
Messaging: Crafting compelling and persuasive messaging that resonates with your target market and communicates the value of your products or services.
Marketing Tools: Utilizing a diverse range of marketing tools and tactics to reach your audience effectively and generate qualified leads.
Measurement and Optimization: Continuously monitor and analyze your marketing efforts to identify areas for improvement and optimize your results.
By leveraging the "Parthenon of Business Results" approach, Steve Mills helps businesses transform their marketing strategies, enhance customer engagement, and drive substantial growth.
Conclusion:
A Marketing Health Check is a pivotal step in unleashing the full potential of your business. By partnering with experts like Steve Mills, you can gain valuable insights into your marketing efforts and unlock new avenues for growth and profitability. Michael Brook's success story with 'My Expertise Online' exemplifies the transformative impact of a Marketing Health Check conducted by Steve Mills. Embrace the power of evaluation, optimization, and expert guidance to take your business to new heights. Invest in a Marketing Health Check today and witness the remarkable results that await you.
Remember, success begins by taking action. Contact Steve Mills and embark on a journey to elevate your marketing strategies, drive business growth, and achieve unparalleled success.