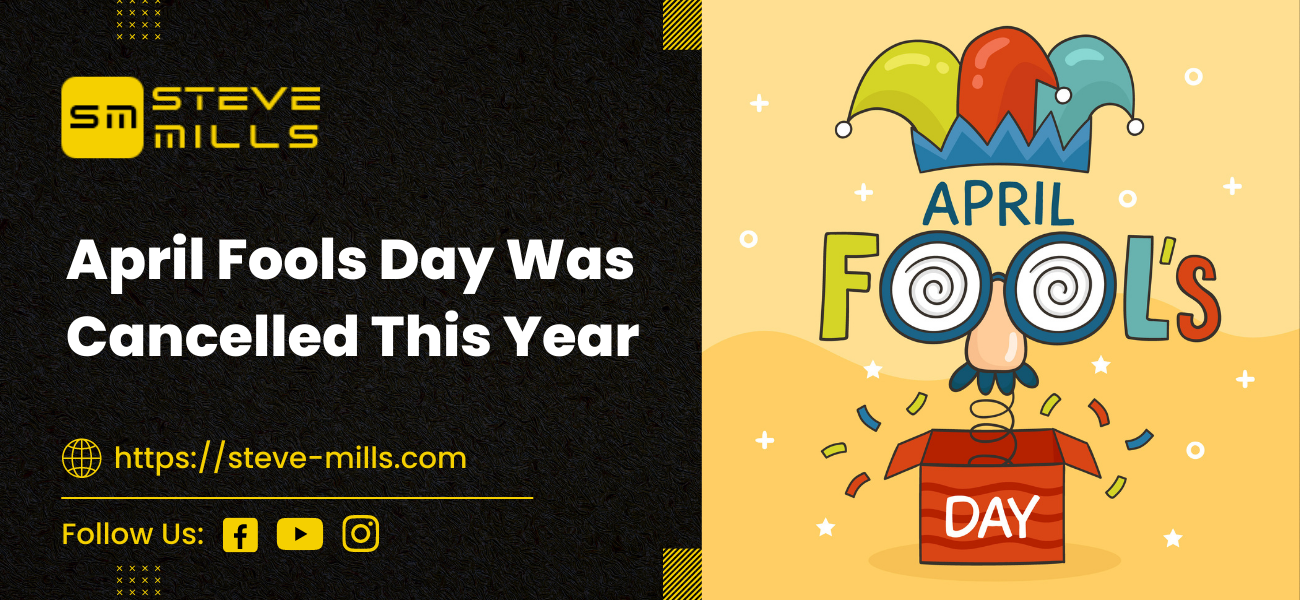 April 2, 2023

stevemills

0
April Fools Day Was Cancelled This Year: Embracing the Unbelievable Reality
April Fool's Day, a day of pranks, jokes, and hoaxes, has always been celebrated with lightheartedness and laughter. However, the events of the past year have left us questioning the appropriateness of such festivities. In this blog, we delve into the reasons behind the cancellation of April Fools Day and explore the incredible circumstances that have overshadowed our desire for playful deception.
The Unprecedented Realities of Our World
The year leading up to the cancellation of April Fools Day has been marked by extraordinary challenges. From the global pandemic to social unrest, natural disasters, and economic uncertainties, the world has been burdened with a series of unfortunate events that have made even the most outlandish pranks pale in comparison. The weight of these realities has forced us to reevaluate our priorities and reflect on the impact of our actions.
About Steve Mills:
Steve Mills, a former international sportsman, is a leading sales, marketing, and business growth advisor, coach, and trainer. He is the author of four books and has delivered impactful speeches to audiences worldwide. Steve's expertise, coupled with his "Parthenon of Business Results" approach, equips clients with the tools and strategies needed to enhance their effectiveness, achieve exceptional results, and explore new avenues of income generation.
The Influence of Media on Our Perception
As we navigate through these tumultuous times, the media plays a significant role in shaping our understanding of the world. The constant barrage of breaking news often sensationalized for higher viewership, has distorted our perception of reality. The media's ability to magnify the absurd and emphasize the negative has created an environment where distinguishing between fact and fiction becomes increasingly challenging. The result? The cancellation of April Fools Day seems like a rational decision, as no made-up prank could rival the mind-boggling events taking place around us.
The Perspective of Steve Mills, Business Growth Specialist:
Steve Mills, a renowned Business Growth Specialist, offers his unique perspective on the cancellation of April Fools Day. With years of experience in sales, marketing, and business growth, Steve has witnessed firsthand the impact of external factors on businesses and individuals. His insights shed light on the need to adapt to the changing landscape and find new ways to thrive.
As a former international sportsman turned advisor, coach, and trainer, Steve has helped clients worldwide achieve remarkable results. Through his "Parthenon of Business Results" approach and a range of business growth tools, he empowers individuals and organizations to enhance their effectiveness and generate new streams of income. Steve's expertise enables him to provide valuable insights into the challenges faced by businesses during these unprecedented times.
Conclusion:
In conclusion, the cancellation of April Fools Day serves as a sobering reminder of the overwhelming realities we face in the world today. The incredible events unfolding around us have overshadowed the desire for playful pranks and light-hearted jokes. Moreover, the influence of the media has further skewed our perception of truth, making it difficult to discern fact from fiction.
Steve Mills' perspective as a Business Growth Specialist emphasizes the need for adaptability and resilience in these uncertain times. By embracing the current realities and focusing on effective strategies, businesses can navigate the challenges and create new avenues for success. It is crucial to reflect on the absurdity we encounter, challenge the narratives presented to us, and seek opportunities for growth and innovation.
As we move forward, let us remember that April Fools Day may have been canceled this year, but our ability to find humor, creativity, and resilience within ourselves remains. Happy April Fool's Day! 🤡
Remember to share your thoughts on this topic and engage in the discussion below!