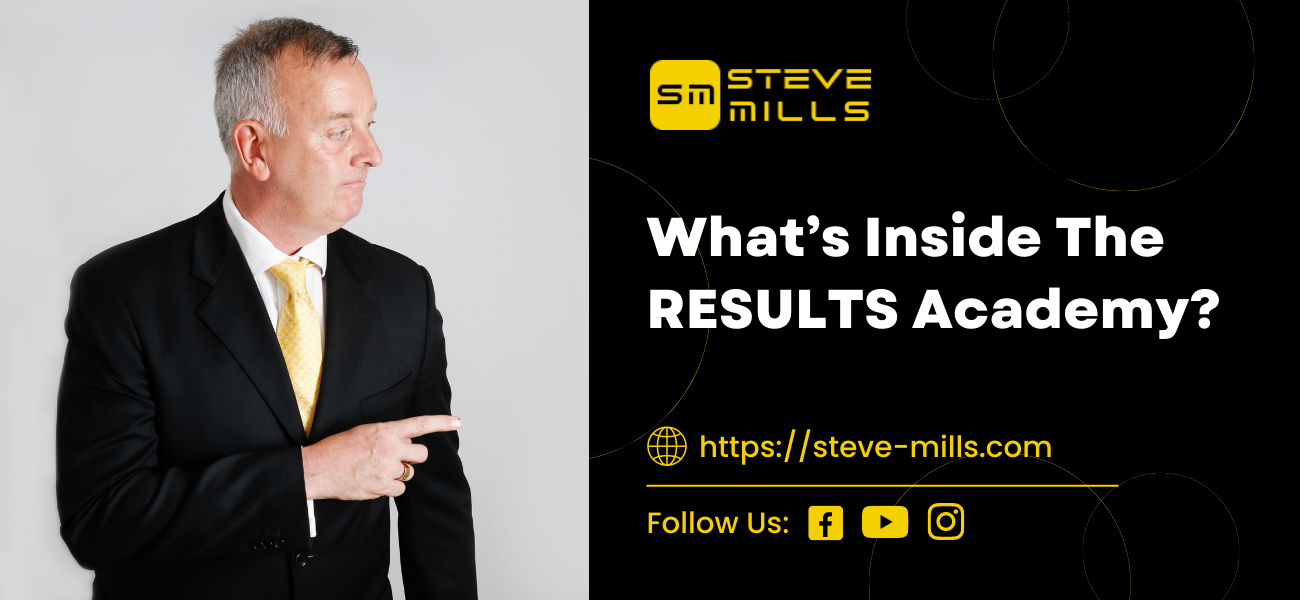 August 27, 2021

Steve Mills

0
I am often asked. What's the secret ingredient in business success? My answer is always the same. "Become better at sales and marketing". Or lead creation and conversion as I like to call it.
What is inside the RESULTS Academy and why is it so valuable? What do members actually get?
In the RESULTS Academy, you will learn the latest trends, the best marketing approaches and the underlying secrets of the perfect sales campaign.

The training will take you 'step by step' from planning and strategy to implementation, which will help you understand exactly how to approach your sales and marketing campaigns for maximum RESULTS!

However, that's easier said than done. The majority of marketers often misjudge how their campaigns have actually performed. Most marketers 'think' they know what works and what doesn't, but the reality is, they have no clue.

Marketing takes dedication, understanding and constant measuring to ensure you know exactly how to take a low performing campaign and turn it into a winning campaign.

By placing a small investment into The RESULTS Academy, you will reap the benefits of more than two decades of experience, in-depth research and knowledge but most importantly mistakes learnt during that time, that's made us one of the most sought after marketing teams.
Let's take a sneek peak at The RESULTS Academy…
Want to sign up and take the first step to make more money?
If you do then click here.
Want to know more from me?
Book a no-obligation RESULTS Review meeting. Simply click on the gold button when you click BOOK HERE.
Connect to me on:
Video – Here is a link to subscribe to my YouTube channel – Click here
Audio – Here is a link to my Podcast called 'The RESULTS Podcast' – Click here
LinkedIn – Ask me to connect here – Click here
Facebook – RESULTS Mastery group – Click here
Facebook Steve Mills Marketing business page – Click here