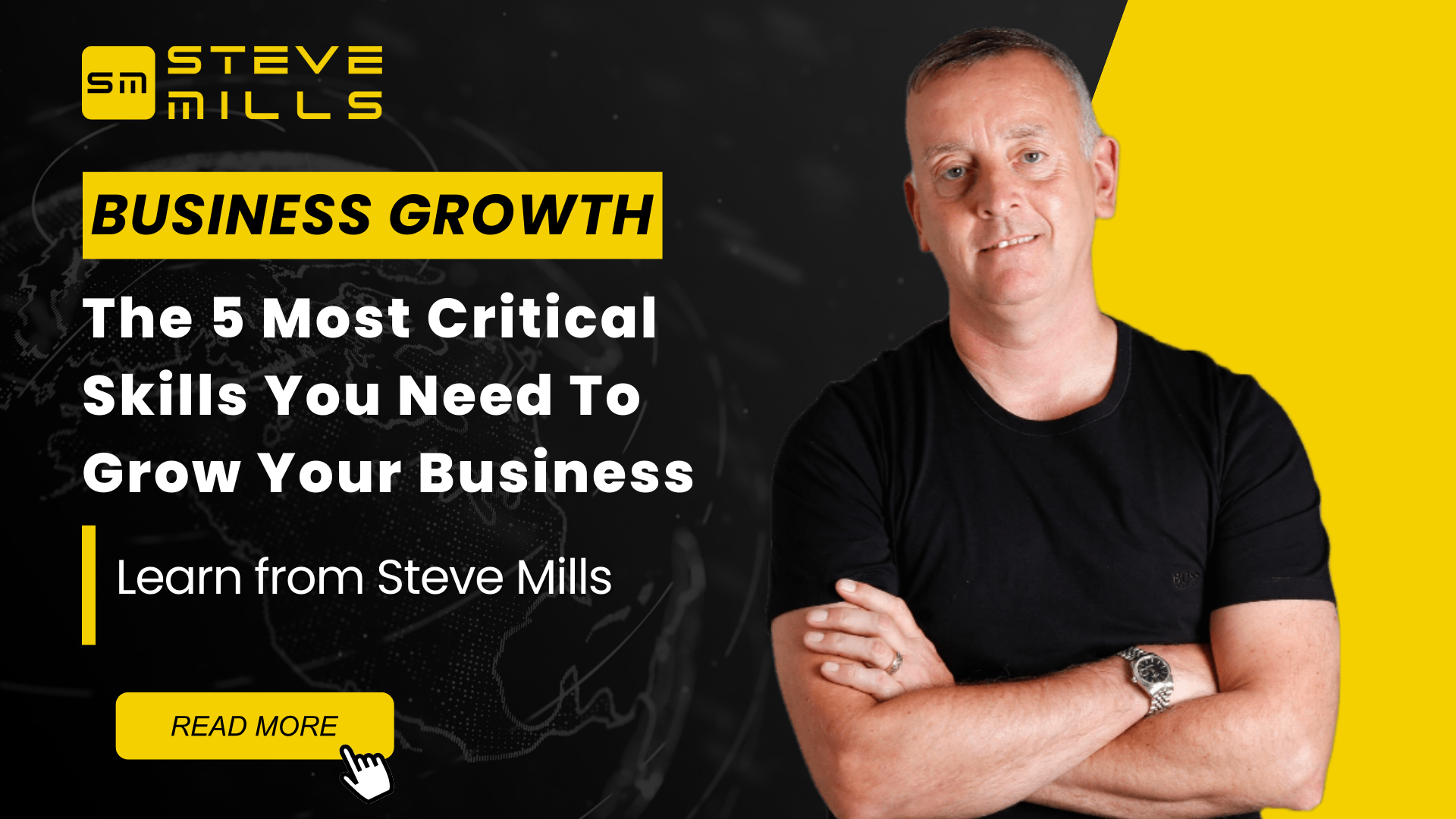 November 16, 2023

stevemills

0
In today's RESULTS Mastery Live session, I spoke about – The 5 Most Critical Skills You Need To Grow Your Business and make 2024 better than 2023.
The live session was streamed over LinkedIn, Facebook, and YouTube. It was also live on my podcast which is streamed over iTunes, Amazon, music and about 30 other streaming sites. On totally I got over 7,000 views and listens.
To find out exactly what I was talking about. I'd like you to spend 20 minutes viewing and listening to my video. This is a recording of the actual talk I delivered and I can promise you. There is some real gems and real value in understanding what the skills are you need to grow your business and also how to get those skills.
I would estimate that whilst this talk is only 20 minutes, there's enough value in it to grow your business by at least 50%.
That's assuming you don't work for Vodafone or Nike or other similar businesses. To be clear, this is for small business owners who want to get from where they are now to where they want to go in 2024.
I hope you enjoyed the video and as per my offer at the end, if you'd like to book a one-to-one meeting with me, I'd be very happy to talk to you about how you can implement some of these great ideas in your business, how you can learn those skills and others and how you can really take your business forward in 2024.
to book a meeting go to my website which is www.Steve–mills.com and click on one of the gold buttons. This will give you access to my online diary where you can book a meeting on Zoom at a time that's convenient for you. Or if you're on the Isle of Wight or you'd like to visit here, we could even meet in person.
To find out more from me, and to subscribe to my stuff see the links below:
Steve Mills Business Growth Advisor YouTube Channel – https://www.youtube.com/channel/UC6U1XU5YuFRk8TECjWBLUNA/videos?view_as=subscriber
The RESULTS Podcast – On iTunes – https://podcasts.apple.com/us/podcast/the-steve-mills-results-podcast/id1468660470?uo=4
The Steve Mills RESULTS Mastery University – https://steve-mills.com/the-results-mastery-university/
RESULTS Mastery Programme – https://steve-mills.com/results-mastery/
Recommended websites – https://steve-mills.com/recommended-websites/
Connect to Steve on LinkedIn – https://www.linkedin.com/in/marketingadvice/
To give me a recommendation on Trustpilot click here
To recommend me on Google click here