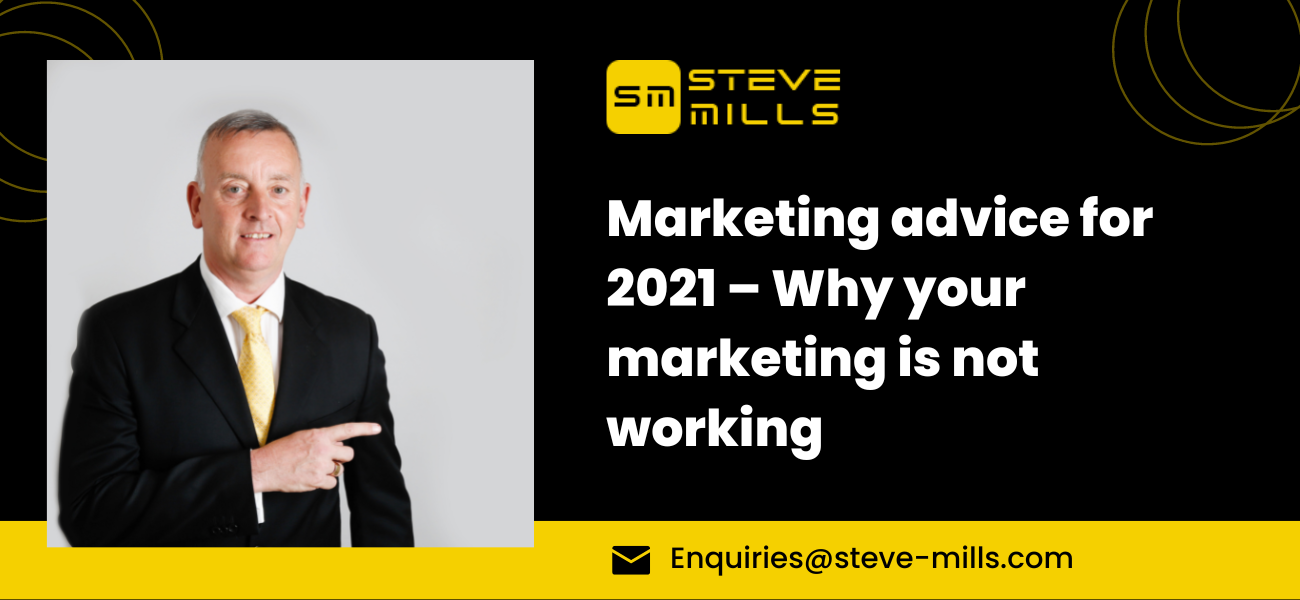 March 18, 2021

Steve Mills

0
Marketing Advice for 2021 – There are many things that could be wrong with your marketing, but in my experience, which dates back over 25 years, and having worked in thousands of businesses in hundreds of industries, I think that 99.9% of the time the reason(s) your marketing is not working is one, or multiple of the following:
Your marketing is too generalised and not targeted at a tight enough niche.
Your marketing is not being sent to enough people.
You are not marketing to your list often enough.
You are not using a systematised process for your copy. For example – the 4 W.W.W.W.'s – What is the product or service? Why should I buy it? What will it do for me? Why you?
There has been little or no investment in time in terms of training your marketing team.
Your pricing is not correct.
Your brand does not link to your product, or service offering.
You are trying to sell to people before you have built a relationship with them.
Your product or service is not wanted, understood to be wanted, or needed by your target market.
Split testing is not being carried out on your advertising, or marketing.
There is a real lack of investment in time and money in marketing.
The market is too saturated. (There are thousands of people offering what you do).
Your message is mixed. You are offering more than one product, or service at once.
Your headline(s) are poor. These headlines could include – the headlines on your posts, articles, web pages, blogs, email campaigns, adverts, or other forms of marketing.
You don't have strong sub-headings.
The words you are using are not very good and don't convert.
The pictures you are using are poor quality, not relevant, or do not resonate with your target market, or you.
You don't have a video, or the video is boring.
There are technical issues with your page. For example, links don't work.
There are no testimonials (social proof), or not enough, or they are non-specific. For example, if someone said, "Steve is a nice guy and a great presenter". That is not as powerful as "I went on Steve's workshop and made £600,000 in extra income in the next six months".
You are on social media, but rarely use it and you think that Facebook is not for business.
Your (CTA) "call to action" is weak, or there isn't one.
Your web pages don't really have an MWA (most wanted action).
The call to action is at the end and only appears once. It should be displayed, or spoken about several times.
There is no PS… at the end.
PS… If you want to get your marketing working, then take the first step and book a free results review meeting with me, Steve Mills. Click here