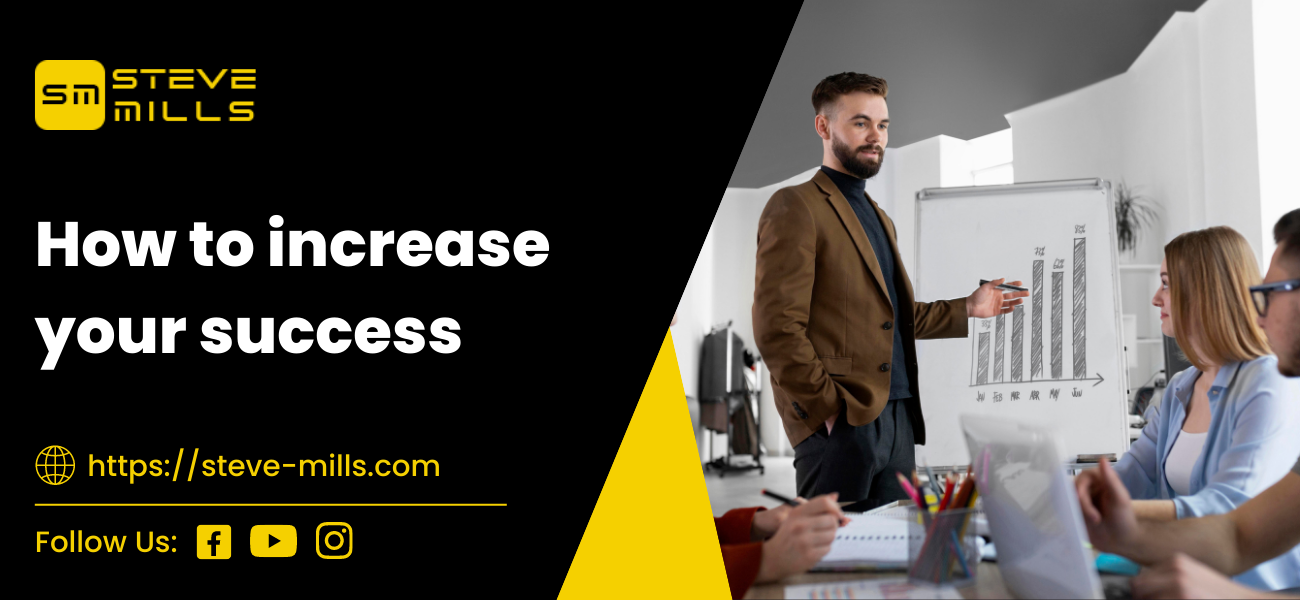 December 10, 2020

Steve Mills

0
There are three things that massively increase success in business. These three things have created 99% of my success and the success of my clients.
Having a Coach
I remember my days as a professional sportsman. I wanted to know – How to increase my success. I had several coaches who helped me. These days it's impossible to think of a successful sports person who does not have a coach. In business, I think we all need a coach to help us. Let's face it. We can't be experts in everything in business. Most business owners I meet are what I call operational experts.
They are experts in what the businesses does. For example, someone might be a car mechanic for 20 years. Then decide to open their own garage because they are experts at repairing cars. It's what they love going.
However, here lies the problem. They are not a finance expert and they are not a sales and marketing expert. In fact, they will openly admit, they have never done any training in sales and marketing and they hate selling and hate finance even more.
Any surprise 80% of businesses go bust in the first five years. They can't sell and market and they can't manage the money! They have an accountant who tells them how well they did last year, but that accountant can't really help them to grow their business (AKA create sales).
"It's the power of a coach that helps you navigate that voice and self-imposed obstacles that stop you from building your business, increasing profit and living your dreams."
The first step is getting coaching from an expert like me. I save you time, headaches, and a fortune in your business. Investing in a coach is the smartest investment anyone can make because YOU are really investing in YOU.
Access to World-Class Sales and Marketing Systems
To be successful in business you must get access to world-class sales and marketing systems and have access to coaching from someone like me who can…
Design your marketing strategy in less than an hour of coaching in our masterminds. (yes, it takes less than an hour of my coaching because I spent 25 years making mistakes and learning the best sales and marketing minds in the world and I know the fastest ways to help you succeed)
Give you access to my plug and play sales funnels that took me 25 years to develop, and you get the entire MAP.
Give you access to my online training programmes.
I hold NOTHING back in the when you work with me.
If you're worried about technology, you have access to my technology team to give you advice and coaching anytime you need it.
PLUS, you have a Community of AMAZING business owners, entrepreneurs, accountants, service-based business owners, wellness practitioners, and financial advisers to support your dreams.
So, whether you're looking to breakthrough to your first six figures or you want to go to 7 figures in your business or multi 7 figures, joining my coaching is perfect for you.
I remember when I started off in business. I was lonely, isolated, and disconnected from many friends that went to work in a job they hated, spending 5 days per week wishing it was the other two. "
If you were in our community you wouldn't be saying TGI Friday, but rather TGI Monday. If you apply to be coached by Steve he will only accept the role if he feels you are 100% committed to growing your business. Steve will ONLY select a small group of new people and spots will go VERY, VERY fast.
If you want to succeed at a level higher than you've done so far, and you want to be part of my RESULTS Coaching, then book a 1-2-1 meeting with Steve now to be considered to become my next success story.
The BEST Strategic Partners
Having strategic partners, or affiliates can help you 10 x your income and impact much much FASTER then you can do one your own.
When I first started off in business and I want to increase my marketing knowledge I Googled – Who is the worlds No.1 marketer? Google told me Jay Abraham. I want to Jay's website to find that he was running a 7 day marketing programme in the USA in 3 weeks, so I signed up paying him $3,800. When I got there I was amaised to find about 2,500 other people (yes that's $9,500,000 for 7 days work). Not enough to live on but it's a good start!!!
The seminar was great and Jay spoke about many different things, but one thing I still remember him saying is – "If he was only allowed to use one form of marketing to grow a business, then he would use strategic partners.
One good partner changed everything for me. One partner led me to 8 other partners that helped me grow my list to 25,000 people in 12 months.
These are the same partners that put me on their stages, send me HIGH PAYING consulting clients, and mastermind with me to 10 x my results.
What if you could get access to amazing partners? Imagine where your business would be 12 months from TODAY. If you want to be considered, then you must apply today by setting up a 1-2-1 meeting with me, Steve Mills. We can then determine whether you are the right fit for our community and we are the right fit for you. It's a free coaching session!
Or
Are you just going to sit back and do nothing?
If you want to make a difference for you, your family, your groups, and then planet, then there's only one thing left to do…
BOOK YOUR INITIAL COACHING CALL WITH ME, STEVE MILLS BY CLICKING HERE.