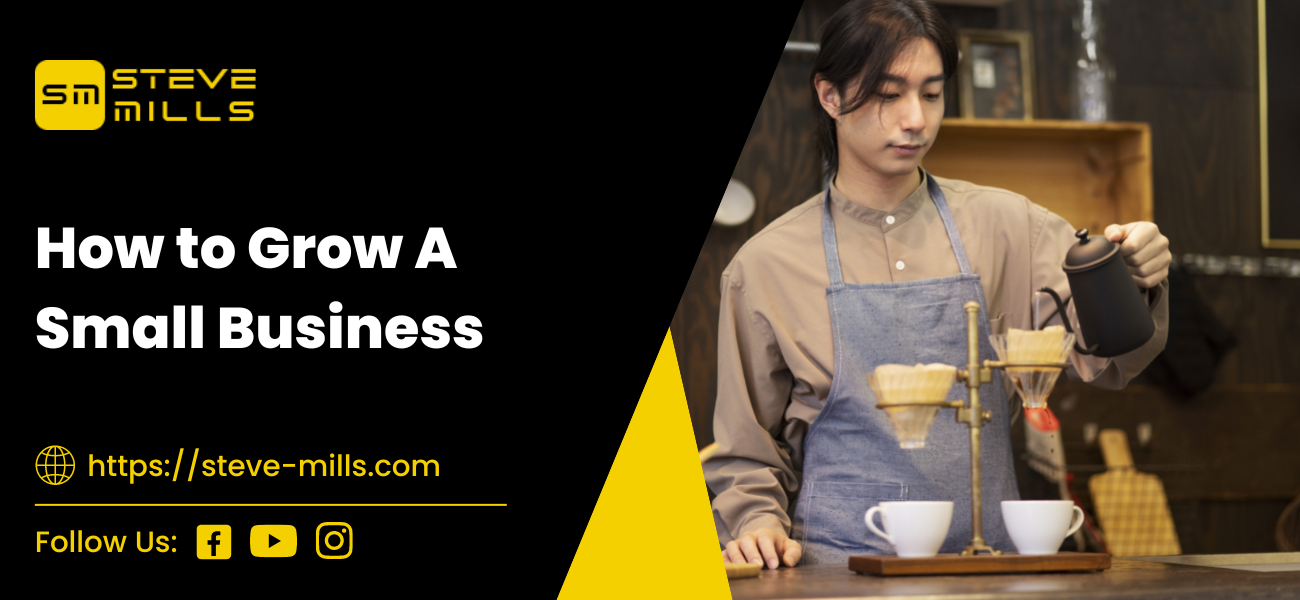 December 12, 2022

stevemills

0
How To Grow A Small Business – There has never been a more critical time to focus on growing your business than now! Every day, BS 24/7, the media bombarded us with bad things that will only worsen. Don't get me wrong; I am not saying times arent tough. Of course, they are but cutting back and retreating is a recipe for disaster!
Your No.1 problem, together with the 99.9999% of all small businesses, is OBSCURITY! No one has ever heard of you!
"We are really good at what we do, but no one has heard of us." How many times have I heard that?
As part of my commitment to helping small businesses to survive and thrive, I have developed a programme called RESULTS Mastery. And I'd like to offer you the opportunity to download a free RESULTS Mastery Report called – The Four Steps to Better RESULTS. You can get it by clicking here.
Or, if you want to read the first step, you will find it below:
Step one of How To Grow A Small Business is – You always have to build your audience.
Otherwise – nobody is going to see your stuff! Now I want to be precise – an audience is different than likes, fans, LinkedIn followers, or any of that stuff. 
Your audience is the people who PAY ATTENTION to what you're saying. 
The way that I used to when I started 27 years ago was to build a direct mailing list. Then came the email list. Of course, building an email list is still a good idea. The fact you're reading this proves that! 
However, there are other things you can do to build your audience.
For example, people can be added to your audience if they: 
Engage with one of your social media posts 
Attend your webinar or seminar 
Download your free report 
Watch your video 
Read your blog post 
Click on an advert 
Read your book 
Etc. 
For example, you see my stuff everywhere because you engaged with me and your social media platforms show them more of it! Plus, some social media platforms will start showing your stuff to people similar to your audience without you telling them! 
So, to be precise – if someone clicks on one of your posts, even if it's just them clicking the "read more" part, or they watch one of your videos, leaving a comment, clicking the like button, or anything like that, then they are added to your audience. 
So, stop farting around saying, "I don't want to bombard people, so I will just post once per week". Get going and do lots of stuff every day!
The important point 
I run many adverts on Google, YouTube, LinkedIn, and Facebook. Whenever I do this, I am building my audience in three ways: 
Way no. 1 – Some people buy stuff. (Added to my customer list so I can email them) 
Way no. 2 – Some people opt-in for a gift such as a report, a free training programme, or attending a free webinar. (Added to my email list so I can email and call them) 
Way no. 3 – Some people visit my website but don't do anything. (Added to my retargeting audience so I can show them more ads.) 
I also make organic posts, and whenever I do, my audience grows. It has worked so well that my engaged audience on Social Media is now far more extensive than my email list. It is such a HUGE deal.) 
The other day 14,000 people read one of my LinkedIn posts, and 7,000+ people listened to every podcast I recorded.
ACTION STEP  – How many people are on your lists? 
List the name and number of people on each of your lists
Email list 
LinkedIn list 
Facebook followers 
Webinar attendees 
Networking contacts 
Twitter followers 
YouTube subscribers 
Instagram contacts 
Etc 
What are you doing to grow your lists? 
Act and Improve your RESULTS
Just in case you are wondering. I get all these tips and information by learning from some of the best minds in the world. I have spent over 27 years studying marketing, and in that time, I have spent over 20,000 hours and over £150,000 attending seminars, reading books, tapes, CDs, and DVDs and now learning from Podcasts and online training programmes.
I hope you enjoy reading this blog post. Get in touch if it makes you think seriously about your business and situation. If you want more help growing your business…
To gain access to the full 4-step system report…