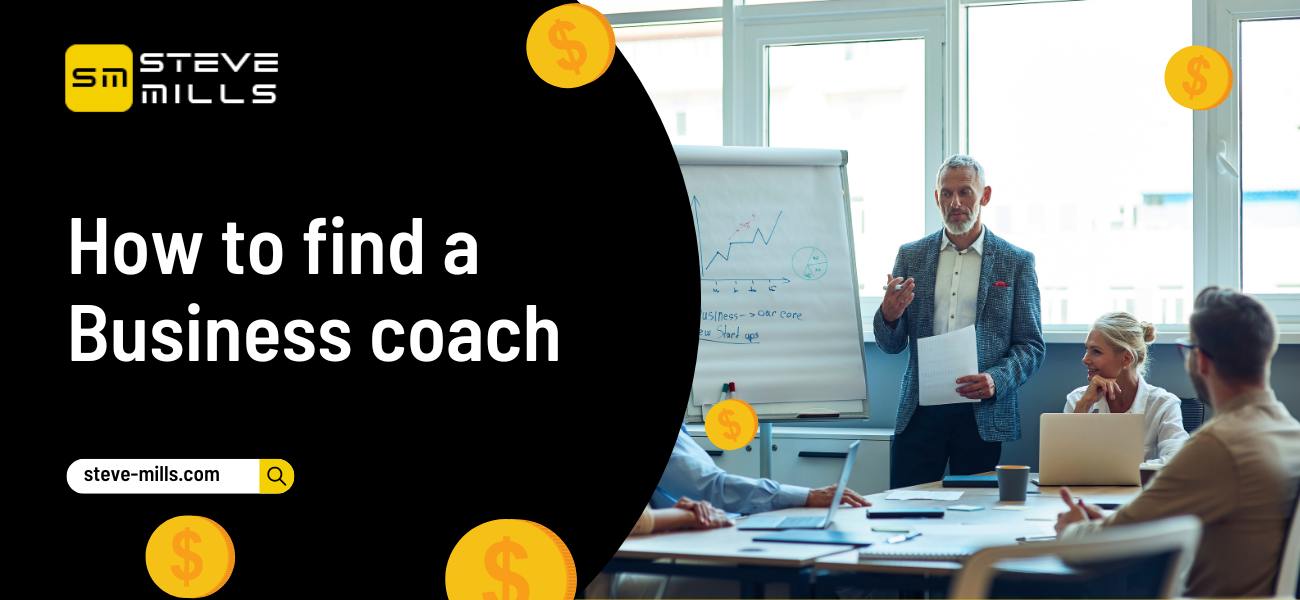 March 29, 2023

stevemills

0
As an entrepreneur or business owner, it's not uncommon to encounter obstacles that you're unsure how to navigate. These challenges can range from managing employees and increasing revenue to developing new products and expanding into new markets. When you're faced with these obstacles, it can be helpful to have someone to turn to for guidance and support. That's where a business coach comes in.
A business coach is an experienced professional who can provide you with the insight, guidance, and accountability you need to grow your business. Whether you're a seasoned entrepreneur or just starting out, a business coach can help you clarify your goals, develop a plan to achieve them, and overcome the obstacles that stand in your way.
So, how do you find the right business coach for your needs?
Here are some tips to help you get started:
Clarify your goals and needs Before you start your search for a business coach, take some time to clarify your goals and needs. What specific challenges are you facing? What do you want to achieve in your business over the next year? Be as specific as possible, so you can find a coach who has experience in the areas where you need the most support.
Look for a coach with relevant experience Once you've clarified your goals and needs, look for a coach who has experience working with businesses similar to yours. A coach who has worked with businesses in your industry or at a similar stage of growth will be better equipped to help you navigate the challenges you're facing.
Check credentials and references When you're evaluating potential coaches, be sure to check their credentials and references. Look for a coach who has completed a reputable coaching program or has relevant certifications. You should also ask for references and speak to other business owners who have worked with the coach to get a sense of their coaching style and effectiveness.
Consider compatibility Finally, when you're choosing a business coach, consider compatibility. You'll be working closely with your coach, so it's important to find someone you feel comfortable with and who understands your communication style. Schedule a consultation or initial session to get a sense of the coach's personality and approach before making a commitment.
In conclusion to this blog post – How to find a business coach
Finding the right business coach can be a game-changer for your business. With the right guidance and support, you can overcome obstacles, achieve your goals, and take your business to the next level. By clarifying your goals and needs, looking for a coach with relevant experience, checking credentials and references, and considering compatibility, you'll be well on your way to finding the right coach for your business.
To find out more from me, and to subscribe to my stuff see the links below:
Steve Mills Business Growth Advisor YouTube Channel – https://www.youtube.com/channel/UC6U1XU5YuFRk8TECjWBLUNA/videos?view_as=subscriber
The RESULTS Podcast – On iTunes – https://podcasts.apple.com/us/podcast/the-steve-mills-results-podcast/id1468660470?uo=4
The Steve Mills RESULTS Mastery University – https://steve-mills.com/the-results-mastery-university/
RESULTS Mastery Programme – https://steve-mills.com/results-mastery/
Recommended websites – https://steve-mills.com/recommended-websites/
Connect to Steve on LinkedIn – https://www.linkedin.com/in/marketingadvice/