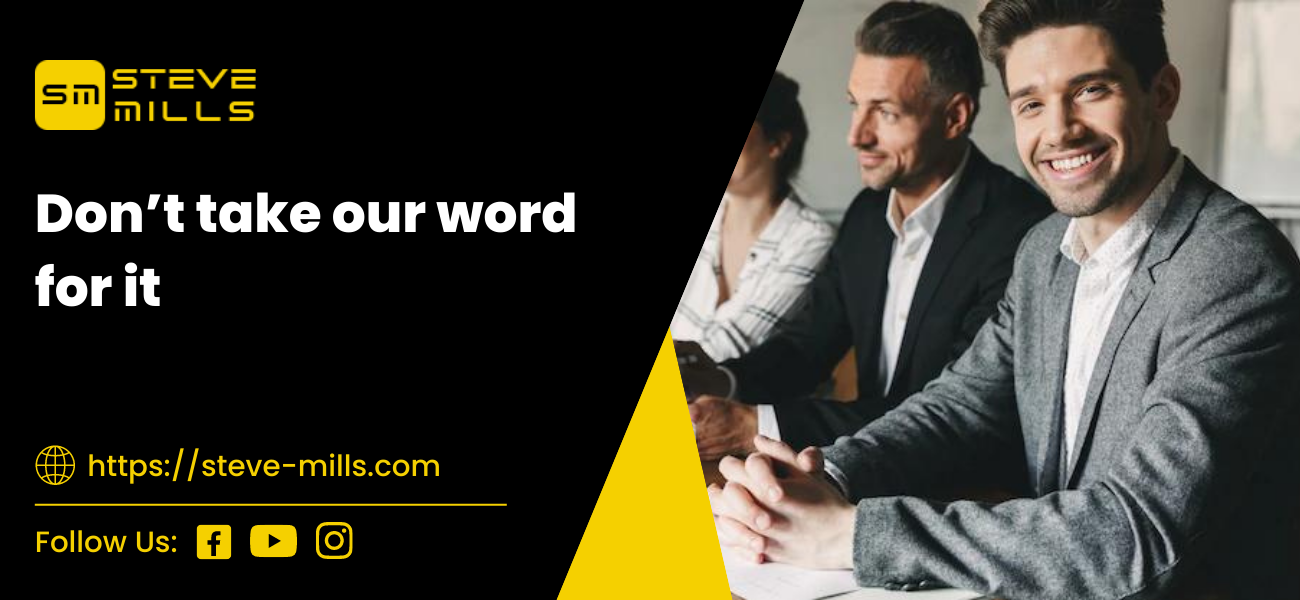 January 29, 2021

Steve Mills

0
Read what over 150 business owners say about Steve…
Don't take my word for it!
I believe that one of the most powerful forms of marketing is referral, or 'word of mouth' as it is often known. I also believe that every business should have a 'word of mouth" marketing plan and part of this should be a 'testimonial plan'.
I could write and tell you about how my training, mentoring and coaching will help you grow your business, but it is probably far more believable if you hear it from over 100 other people; people who are 100% authentic and who have got measurable results from my services – including many who have doubled their business in the toughest recession since the 1930s.
Steve Mills
Here's what they have to say …
We have been on Steve's Results Accelerator Programme for just 3 months now and in that brief time we have seen our average number of monthly leads increase by a whopping 64.7%. We are enthused by the results and the advice/support that Steve provides. Follow the process and you WILL GET GREAT RESULTS.
Seamus Palfrey, Palfrey Murphy Accountants
Thank you for this. As you know last night I connected in Angela re meeting on Monday. I have this morning read this audit in detail. Outstanding work, Steve. You have done wonderful work in outlining the significant opportunities we have. We have got in better shape structurally with Dan taking responsibility for New Biz Inc Tele sales. I am delighted you are meeting with Angela and perhaps Dan might be able to pick up on the sales stuff. Thanks again, Steve
Brian Dunne, Managing Director of SVM Europe
Cascade Event Management's turnover hit £492,000 this year (up from £290,000 last year) and I'm sure a significant part of that is down to the time I spent with you, Steve. This year is looking good too but we still want to take it the next level.
Chris Monk – Managing Director of Cascade Events Ltd
I have taken Steve Mills advice earlier this year and within a short space of time my company was all over the first page of Google. We operate in a very competitive market (luxury sailing holidays) and have some big company competitors, so all the advice that I got was priceless. Many thanks, Steve.
Phil Reeves, Essential Sailing
Steve is a true marketing professional. He has made a difference to our business' success. I would not hesitate in recommending Steve.
Michael Brook, Professional Excellence
I have known and worked with Steve for a good while now and have come to realise and appreciate his positive approach is contagious.
Having been in business for 20+ years I have constantly met several companies and business people who claim they want to help but really only want to sell you something but I firmly believe Steve genuinely wants me and my business to succeed and do well, certain in the knowledge that if I put the effort in and follow his advice I will do so.
His knowledge and approach in my opinion are second to none and I would most definitely recommend his services.
Nik Shore – Managing Director of Lion Cleaning
I have really enjoyed our monthly marketing meetings and feel that they have been great value for money. Thanks very much for the marketing advice you have carried out to date, and I look forward to working with you again in the future.
Mark Fowles, Fowles Developments
I have worked with Steve Mills on many occasions and he is clearly a real expert in his subject of Sales & Marketing. His knowledge, advice and support have always been very well received and I feel fully confident in recommending his services, both as a trainer and consultant.
Terry Lynch, Aldworth Science College
The marketing advice and training provided by Steve Mills has really helped us to grow our business and we have managed to grow by over 80% in the past year.
Tom Welch, iTeachers
For years now. Steve, I knew something was missing – not just with Water Doctor but even prior to this venture and this has hit the nail on the head!
Kiki Kubath – The Water Doctor
Steve, thank you for an amazing year of business growth advice. What a wealth of knowledge you have. I feel well equipped now to move my business forward.
Lizelle Havenga – Artistic Cakes
Steve is fantastic and has been able to unravel for me many of the mysteries of social media and search engine optimisation. I highly recommend not only his advice, but also his courses for anyone wishing to better understand projecting yourself or your idea or product out into today's market.
Janine Stevens
I have now been on three of Steve's training courses, over the past year-. Marketing without money, LinkedIn training and Social Media Mastery. On each of the courses Steve has been extremely knowledgeable and has given me some brilliant advice that has been invaluable to the company, and has increased our sales and traffic to our website using social media. I would recommend Steve's training courses to everyone who wants to improve their business.
Emma Lewis, Toga Sports
Steve, I just want to say thank you I cannot believe the results that going on your course has done to our ratings on Google. I would and am actively recommending you to everyone I meet. Thank you.
Ian Hodge – Blue Bolt Communications
A word of thanks for a truly brilliant workshop.
Sally Barker – NEC Birmingham
We invited Steve Mills to speak at our international live gaming conference on marketing and beliefs. Steve was an entertaining and informative speaker. He is clearly well read and experienced with the practicalities of small business marketing. I like Steve's online short videos as an easy to understand and useful way of learning about the art of small business marketing. I strongly recommend Steve in the areas of marketing training, public speaking and marketing consulting.
Peter Lander – Managing Director, Battlefield Sports, Australia
A sincere thank you for a tremendous couple of days. This morning was particularly useful and thought provoking for all and I'm sure David is feeling good about things, which is key, as we want him to be a supporter and advocate of the business. Certainly I came away energised with a number of new ideas. Bevan and I also really appreciated the hard work that you had put in to ensure the workbook and programme were ready in time, had good content and looked the part.
Trevor Wilson – Partner, The FD Group
I have only known Steve a matter of weeks but have already established a successful rapport with him through membership of his programme, which I would urge anyone who has a business to join. His knowledge of the workings and business generation potential of this medium is boundless and he has opened my eyes really wide to the possibilities. I look forward to my continuing contact with Steve and would highly recommend him.
Alan Scaplehorn – Dental Practice Financial Services
Steve came to Fox IT to discuss LinkedIn and online marketing in general. The areas we discussed will be of great use to us in the future as we build our online marketing presence. Steve was personable, easy to work with and understood our core goals. I would work with Steve again.
Thomas Cairns – FOX IT
Steve is an inspiration teacher transforming our marketing from a vague understanding to an exciting revolution.
Langar Hall – Langar Hall Proprietor
We hired Steve for a day to help us discover the full potential from our business. It's amazing how much we managed to cover in just the one day and the ideas covered are going to be valuable for our business going forward. Thanks Steve for a great day!
Chris Bishop
I recently attended a marketing workshop with Steve Mills. I found Steve to be very knowledgeable on this subject and he has helped enormously with Fox IT and myself.
Christina Fox – Fox IT
Steve provides a good introduction to the wide capabilities of LinkedIn's very developed business network. I suspect most people are only aware of a very small percentage of LinkedIn's capabilities and Steve's 8 webinars were a simple and effective way of learning about them.
Mike Gilmer – TM Brands Advisor
When it comes to business growth, Steve knows a thing or two! If you have not yet attended any of his seminars (online or otherwise) and want to get the best out of your marketing efforts, then I would recommend that you get in touch with him in the first instance. Marketing is a minefield, but Steve's expertise will show you quickly and easily how it can work wonders for your business – and won't cost you a fortune either.
Helen Shaw – Co-Founder, Pink Tomato
I have seen Steve speak several times recently, it is apparent that he has an in depth knowledge of website marketing and his simple (when you know them) tips save hours of frustration. Steve is able to explain how to use marketing easily and profitably – in layman's terms. A delight to listen to, I learned more about marketing in half an hour last night than I had in years beforehand – highly recommended.
Robert Hurn – Hurn Accountants
Steve presented an excellent session on "How to grow your business" at an evening event for the Theale Business Network. He is a very informative and entertaining speaker and delivered some expert advice on how you can maximise the use of social networks. I was an early adopter of LinkedIn and have been using it for years, but Steve highlighted many areas for improvement and provided some real examples of how we can promote our businesses further. This was just a "taste" of what he delivers on his courses, and I'm sure many of our members will be signing up for more. Thank you.
Steve Hodder – Steve Hodder Media
I attended a workshop yesterday, led by Steve Mills and Frank Furness, on Marketing. Steve provided some great insights. His approach was very inclusive and managed to make Marketing accessible to those who hadn't used it before, but also to give new ideas to those who had. A great day, thank you.
Frederika Roberts – Jarvis Johnson Ltd
I attended one of Steve's Marketing familiarisation courses in a mixed ability group of about 20, all of us from the same industry. It was the best personal training investment I have made in myself for several years. The session was very relaxed but we covered a huge amount of ground in about four hours of hands-on work. The proof of the instructions for me personally was that my name was 8th on an industry category LinkedIn search at 11 am and by 4 pm I had jumped to first place. I recommend Steve wholeheartedly for anyone interested in LinkedIn training and I will be investigating some of his other courses in the near future. Contact him and you won't be disappointed.
Steve Loughton MBA, Standex Food Service Equipment
Steve is an inspirational speaker, with a detailed knowledge of course subject matter and able to translate this into a number of practical applications that could benefit our business in a wider sense. We will be introducing his principle suggestions to other team members and would recommend him to others who are looking for those productivity improvements businesses need to evolve.
Mark Bristow
One cannot help but be thoroughly motivated and energised after attending any Steve Mills event. There is some ineffable quality that he is able to transmit over and above the content, to make one get up and take action. Oh, and the content is great too… expert, engaging and eminently usable, immediately.
Dr Robert Illes
In Jan I attended Steve's LinkedIn course and it became apparent that he could help Solways Printers grow in an ever increasingly smaller and competitive market place. We needed leads and we needed them fast. Following my initial meeting with Steve I created over £8,000 in sales the following day. We have now a marketing strategy in place to grow our business substantially over the next 12 months. He has in-depth knowledge of his chosen field and I recommend his marketing services. In a short space of time he has made a massive positive impact to sales revenues in at Solways. Thank you Steve!
Tim Solways – Solways Printers Ltd
Steve has worked with the staff team at the Berkshire Physiotherapy Centre, helping us understand marketing is a team responsibility – these sessions invigorated individual thinking and encouraged imaginative. If you like me thought media social networking marketing is not for you as you don't understand it – well do what I did and go on one of Steve's work shop's, refreshing that the he tells it in plain language – good investment.
Karen McPhee – KMC Coaching
Steve is good at recognising the use of testimonials and referrals to increase sales. He encourages you to make the most of existing customers.
Penny Lowe
I have known Steve for around 12 years and for the past 10 years he has worked closely with me on marketing my cleaning business. Steve's knowledge, attention to detail and his energetic enthusiasm has resulted in my company having a focused marketing agenda with healthy business growth as a result.
Ray Coleshill – RPC Cleaning Services
I have known Steve for many years and during this time I have helped many businesses to systemise their processes and practices. Whilst working with Steve I was very impressed with his enthusiasm and commitment to Sales and Marketing systems. Steve not only helps businesses produce results, but he also helps them to produce systems so that everyone can do things to the same high standard again and again. This being the case I have no hesitation in recommending him to any business that is looking to grow their number of leads and then be better at turning those leads into sales.
Andrew Brownfoot – Business Adviser, Kirkpatrick & Hopes
When I set up Your First Mortgage Company three years ago, I was very happy with all aspects of running a business except marketing. I attended regularly for a year a monthly tailor made workshop for marketing set up and run by Steve Mills. His expertise and the ease with which he conveyed the simplicity of how marketing should happen was excellent. He gave me a solid plan to work with which to this day I still follow and as I was told often 'measure the results' – I do and it works. Thanks, Steve.
Carol Brown – Your First Mortgage Company
In running your/my own business I did what many people did and started with great intentions but a lack of knowledge on the main function. Not the deliverable service or the financials but the marketing. I never really understood the sales and marketing, and never saw it as the main function of running a business,
Steve showed me how very important this is and showed the importance of managing the marketing. With simple cheap affective strategies Steve helped me get the sales and marketing a clear function within the business set up. His focus on the measuring of marketing undertaken soon changed our focus from having a fixed marketing budget to having an open as long as it works attitude to marketing and sales. Steve helped us to increase sales from £800,000 to over £2,000,000 in 18 months. We used Steve for marketing advice and sales training and both proved extremely successful. I would have no problem in recommending Steve to any SME that wants to improve their marketing and sales techniques.
Kevin Carver – Chem Dry
I have known Steve Mills for the past ten years and we have worked together on numerous occasions. I never cease to be impressed with Steve's breadth of knowledge and his unique ability to get his message across whether as speaker, trainer or consultant. I cannot recommend his firm's services too highly.
Jim Ewan – Director, Intercom
CAN YOU RIDE A BIKE? Of course you can. Who above five years of age cannot?! So how did you learn? Even Bradley Wiggins and Sir Chris Hoy had to learn at one time. Most likely you started off with stabilisers and progressed to Mum or Dad holding your saddle so that you did not wobble too much. Well, that is what Steve Mills of Steve Mills Marketing can do for you on LinkedIn. Now let us get one thing straight, he will NOT pedal for you. That is something that you have to do yourself. Steve will hold your saddle so that you do not fall off and he will make sure that you are going in the right direction. It can be hard work to start with but few things that are worthwhile come easily. If you then want to be a champion in your industry he will become your trainer until you win gold and we are talking about real money not medals. Being in chef recruitment, the past three years have been hell, because the hospitality sector took some of the hardest blows during this recession. I have abandoned trying to make any more money, until I have got my Linked in credentials fully up to date. That is how important I think this is and that is not just the opinion of a chef recruiter, I also ran an advertising and marketing consultancy for 18 years!
John Bowman-Baker – Managing Director, Gladstone Park Chefs
Steve has provided invaluable advice and guidance for my publishing business in the areas of marketing and business development, which has helped to ensure a very strong launch for my first book. Whilst Steve's knowledge of marketing is immense, I especially appreciate his pragmatic approach. If you're looking for someone to help with marketing, sales or business development I strongly recommend that you check Steve out.
David de la Harpe – Power Pups
I have attended many events put on by Steve over the years and have enjoyed them all very much. He is extremely knowledgeable and opposed to simply 'preaching' about the value of marketing he works with people to understand why monitoring and understanding where work comes from, how much it costs, and how much it generates is important. Understanding this was hugely beneficial to my career so thank you Steve!
Stuart Carver – YellowTom
Steve is an engaging, knowledgeable speaker and gave poignant insight and very relevant practical advice that the audience could immediately go away and implement. The session was balanced, interactive and very worthwhile to any size business.
Angelina Rizza Lukehurst – Voceconsult.co.uk
I would like to say that I thought the talk was excellent and found it relevant, accessible and enjoyable. I will recommend that a colleague of mine attends a Steve Mills seminar in the future (unfortunately none of us are available for the 24th March seminar) and I would like to request that you keep me informed of any future events.
Richard Skegg – Bradfield College
I did enjoy the talk it was inspiring encouraging and supportive.
Tanya Whannell – Alexander Technique Teacher
I came away from the morning feeling positive, re-enthused and determined to 'take action'. I've had 20 years' experience working in sales promotion agencies but have been away from the business for 12 years. Building both business and private use of Newbury RFC's facilities is my first priority as well as keeping the accounts. As the presentation progressed, I realised that I did in fact already know the principles being discussed, but had lost the ability to recognise the direct action needed to achieve results. It's helped me focus on the smaller things which can still make a difference to turnover.
Susie Palmer Newbury Rugby Football Club
The talk was good. I am now using Google analytics as a result of information received.
Peter – Berkshire Legal Services
Really enjoyed Steve's talk. Decided to join Twitter, Facebook and Linked-in, though not sure I really have the energy for all that! Will see just how viral, viral marketing is! Thanks for a really helpful and inspiring talk.
Sue – Gentle Hands Baby Massage
We have worked with Steve for over 6 years and have found Steve and his team to be very knowledgeable on all aspects of Marketing. Following his initial audit Steve put together an effective plan to help us create new leads and increase our turnover. I am happy to recommend him if you are looking to increase your sales.
Martin Cleaver – Cleaver Property Management
I have been working with Steve for about a year. He has been a great support to me in all of my marketing activities. He is always enthusiastic and motivating and has a wealth of knowledge and experience that he is keen to share. Anyone who wants to get more from their marketing contact Steve, I am sure he will be able to help you.
Ian Sheekey, Accountant, Hugh Davis & Co
I joined Steve Mills programme two months ago and I can fully recommend it to any business owner who is serious about growing their business. Not only does Steve shower us with great tips but he is able to spot and give specific information and guidance to each of us. This helps us all go the extra mile to take our business forward.
Gail Brown, Business Consultant, GB Management Coaching Ltd
Steve is an expert in helping businesses to grow and communicates his knowledge and information on easily. His work is both insightful and enjoyable. I have taken a lot from him and am using the skills I have learnt to make significant growth in our business.
Jo Brown, Calibra Tree Surgeons Ltd
I recently attended a Marketing training workshop conducted by Steve and was extremely impressed with his presentation and the depth of knowledge demonstrated through the day. All of the help and advice given was useful and provided practical and relevant solutions for my business. I would have no hesitation in recommending him to others interested in exploiting and understanding how the use of modern media can help to grow your business.
Glen Roberts
Steve provided excellent marketing training at a Social Media Mastery conference with LinkedIn training.
Lena Hey – Golden Valley Pallet Wrap Specialist Ltd
I have known Steve for many years and would encourage anyone to seek advice and guidance on business and marketing strategies and direction.
Daniel Cole – Divisional Accountant, Thermofisher Scientific
Steve runs a really fabulous course on using social media to enhance your business and improve your profits. The breadth of content is stunning, and the presentation fun and energetic. I will definitely be using Steve's training services again and would recommend him to anyone who wishes to incorporate social media into their professional life.
Rachel Kendrick – Into the Limelight
Steve and I have known each other for ten years as speakers and friends. Today I had the pleasure of running a joint Social Media Masterclass with Steve and was amazed at his knowledge of LinkedIn, Facebook and Twitter. I speak all over the world on Social Media and Technology and still took three pages of notes. Anyone who wants to improve their marketing or social media skills should book Steve. Look out for the dates of our next Masterclass and Social Media Bootcamp over two days.
Frank Furness International Speaker on Sales and Marketing
I've worked with Steve over the last few months. His insight into Sales & Marketing is brilliant. Having now attended one of his seminars I would not hesitate in recommending Steve and the services he offers. Steve's courses are relevant for today's market, he has a definite talent for presenting and explaining. He's very professionally and easy to work with, just by working for him, the advice he's passed onto me has certainly helped build my business.
Fran Culley – Bonsai Solutions
I went on Steve's LinkedIn course which showed me the power of the software. The course was to the point and very good value for money.
Jane Middleton – Finance Director, Rockwell Collins UK Ltd
I have consulted Steve regarding the marketing of my business and also attended his seminars. The advice I was given was focused to my business and of excellent value. I took his advice and success was achieved in what I was trying to do. Steve's knowledge of this subject is extremely good. Attending his seminars is always a pleasure and there is always lots to learn, even if you think you know the subject. Thanks, Steve.
Janet
I recently filmed Steve presenting the LinkedIn Academy training to a large business group in Central London. What an enjoyable tour de force it was! Steve's authoritative understanding of LinkedIn and the powerful business-building system he teaches are real eye openers. I recommend everyone take the small amount of time out required to attend the LinkedIn Academy training course. The knowledge and techniques Steve reveals on the LinkedIn Academy training are very worthwhile and extremely valuable.
Jonathan Kilpatrick
Steve is the ultimate professional and bring a commercial mindset to business development. One of Steve's strengths is his dogged determination to squeeze out every last ounce of value from no and low cost strategies for his clients.
Bob Harper – Crunchers Accountants
Steve Mills worked with us at Celsur for several months designing and implementing new ideas for our own business growth, many of which worked very well and have allowed us to develop new streams of revenue. We still employ the ideas Steve gave us to good effect and would have no hesitation in recommending him to anyone looking to develop their business.
Matthew Thatcher – Celsur Plastics PLC
Steve has helped me to navigate the complexities of Marketing. I would recommend his courses to anyone. Everyone needs to know how to create more leads.
Theresa Wright
I have now been on two courses hosted by Steve Mills; both have been very thorough and in depth. I would recommend Steve for his professionalism and marketing advice.
Matthew Daniell – Cleaver Property Management Ltd
Marketing is an intrinsic part of every business – and successful, effective marketing is often at the core of that business's growth, profit and accomplishment. In the the time I have worked with Steve, I've received extraordinary value about how to better market my own services as the Word Artist. The tips, insights and strategies are absolutely essential and powerful!
Emily Gower – Author & Inspirational Speaker, Word Artist
Highly recommend Steve for Marketing Training and Advice.
Karen Newman – Thomas Chaytor Solicitors
Working for Steve has been a fascinating experience, what he doesn't know about Marketing isn't worth knowing. His boundless energy is a massive asset and I have learnt a great deal.
Pollyanna Colsell
Steve has been helping business owners to increase their profits all the years I have known him – what he doesn't know about marketing isn't worth knowing!
Jim Ewan – Owner, PLS (South East)
It has always been a pleasure to work with Steve.
Martin Crowson – Direct CD's Ltd
Steve is extremely motivating, fun to be around and a fountain of knowledge. I would recommend to anyone seeking marketing and sales training that they attend one of Steve's courses.
Jemma Fowler – Concurrent Systems Inc
Steve has been great and a good source of leads and recommendations and I look forward to growing on our business relationship next year. Thanks so much.
Debra Mann – Variety Events
The FD Group has always used Steve for our consultative selling skills training. He understands the needs of professional services businesses and is great at imparting his experience and knowledge in a way that keeps the audience interested. We have benefited hugely from Steve's input and I can strongly recommend his services to others.
Trevor Wilson – The FD Group
Steve is a great guy as well as being an expert marketeer. He had tons of experience with all sorts of businesses and is a passionate and confident public speaker, which is a great way for him to get his message across.
Andrew Gray – Kirkpatrick & Hopes Accountants
I am pleased to endorse Steve as both a high quality presenter and as a marketeer. I have attended Steve's training sessions and his seminars and have found him a very knowledgeable and motivating speaker. Over a number of years I have applied some of his marketing ideas to the benefit of my company Prismea and have doubled the size of my busienss.
Mike Preston – Prismea Consulting Ltd
I attended one of Steve's social media marketing seminars. Steve made the subject easy to understand and his methods produced immediate results. I would recommend Steve without hesitation.
Marc Brenan
I attended a seminar given by Steve — very inspiring and informative. I would certainly recommend Steve to help you grow your business.
Jen Poplett
Steve has been working with us for a few years, his expert knowledge in this area has helped us out immensely. Our turnover has increased and advertising costs have reduced. I would recommend Steve to everybody. Please feel free to contact me if you want to know any more about this marvellous chap.
Mark Grubb – The Friendly Tree Surgeon
Steve is fantastic and has been able to unravel for me many of the mysteries of social media and search engine optimisation. I highly recommend not only the LinkedIn Academy but any of his courses for anyone wishing to better understand projecting yourself or your idea or product out into today's market.
Janine Stevens
I attended one of Steve's LinkedIn familiarisation courses in a mixed ability group of about 20, all of us from the same industry. It was the best personal training investment I have made in myself for several years. The session was very relaxed but we covered a huge amount of ground in about four hours of hands-on work. Proof of the instructions for me personally was that my name was 8th on an industry category LinkedIn search at 11 am and by 4 pm I had jumped to first place! I recommend Steve wholeheartedly for anyone interested in LinkedIn training and I will be investigating some of his other courses in the near future. Contact him and you won't be disappointed.
Steve Loughton – MD at Jestic Foodservice Equipment
Steve opened our eyes to a world of marketing possibilities which will completely transform our business. He creatively cuts to the chase.
Paul Cadde
Steve Mills has worked for Keytek providing a variety of roles including helping our franchisees with their local marketing, helping us to set up a national accounts section, training our team in sales & marketing and supporting us in the marketing of our website. During this time we have made significant growth in our business and I feel fully confident in recommending his services.
Gary Rowley, Keytek UK Limited