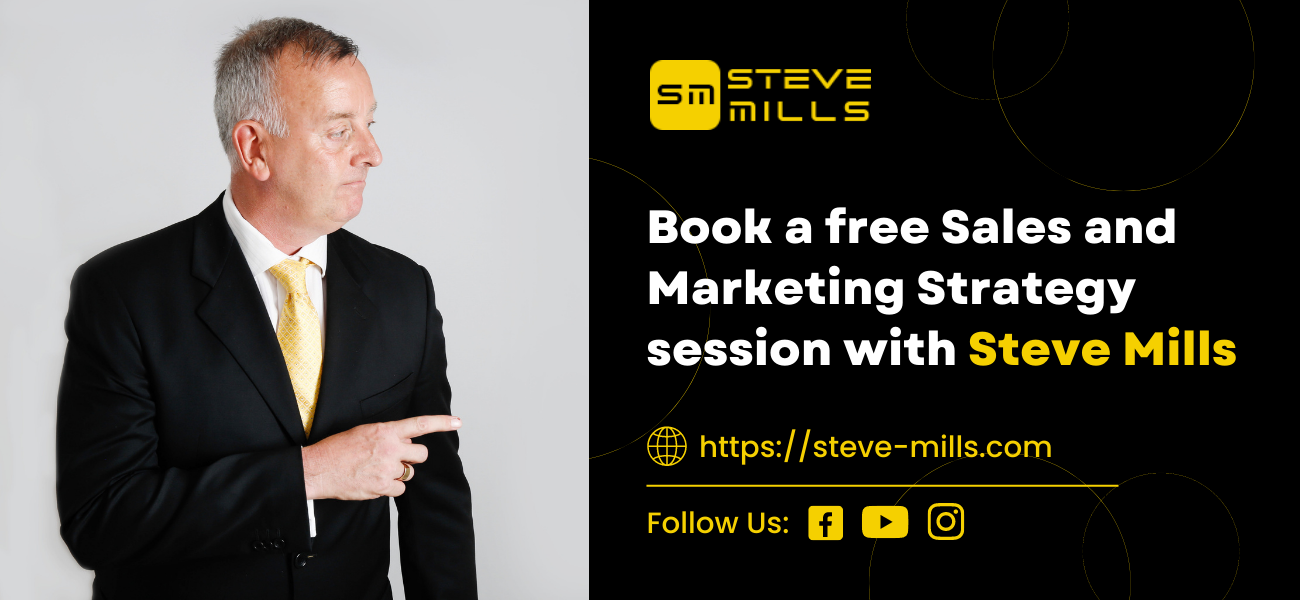 December 30, 2020

Steve Mills

0
Book a Free Sales and Marketing Strategy Session with Steve Mills
Are you looking to take your business to new heights? Do you want expert guidance and strategies to boost your sales and marketing efforts? Look no further! Steve Mills, a renowned sales, marketing, and business growth advisor, is offering a free 1-2-1 Sales and Marketing Strategy Session to help you achieve your business goals. In this blog post, we'll explore why Steve is giving away his advice for free, his impressive background, and how you can book your session with him today.
Why is Steve giving away his advice for free?
You might be wondering why someone as experienced and successful as Steve Mills would offer free strategy sessions. It all comes down to his philosophy in business. Steve firmly believes in proving his ability to help people by actually helping them. He wants to demonstrate his skills and expertise before asking for any financial commitment. This approach is based on fairness and building trust with potential clients. By providing valuable advice upfront, Steve establishes a strong foundation for future business relationships.
Steve Mills: A Leading Sales, Marketing, and Business Growth Advisor
Steve Mills has an impressive background that sets him apart as a leading authority in sales, marketing, and business growth. Before dedicating his expertise to helping businesses succeed, Steve was an international sportsman. Today, he leverages his competitive spirit, strategic thinking, and passion for business to deliver exceptional results for his clients.
Author and Speaker
Steve is the author of four books that cover various aspects of sales, marketing, and business growth. His books are highly regarded by professionals worldwide and provide actionable insights and strategies for achieving tangible results. In addition to being an author, Steve is a sought-after speaker who frequently addresses audiences across the globe. From Singapore and Malaysia to Dubai and the United States, Steve has shared his expertise with diverse audiences, spreading his knowledge and empowering businesses across borders.
The Parthenon of Business Results
One of the key elements of Steve's approach is the "Parthenon of Business Results." This framework emphasizes holistic growth and encompasses multiple pillars necessary for a thriving business. By identifying and optimizing each pillar, Steve helps clients improve their overall effectiveness and achieve outstanding results. Whether it's sales processes, marketing strategies, customer acquisition, or team development, Steve's expertise covers all the essential aspects of business growth.
Creating New Streams of Income
Steve understands that business growth goes beyond traditional approaches. He guides his clients in identifying and creating new streams of income. By exploring untapped opportunities and alternative revenue sources, Steve helps businesses diversify their income streams and secure long-term success. His strategic mindset and extensive experience enable him to uncover hidden potential and open new doors for profitability.
Conclusion
If you're serious about growing your business, taking advantage of Steve Mills' free Sales and Marketing Strategy Session is a valuable opportunity. By booking your 1-2-1 session, you'll gain access to Steve's expertise, proven strategies, and actionable advice. Steve's philosophy of demonstrating his value upfront sets him apart, ensuring that you receive tangible results and build a solid foundation of trust.
Don't miss out on this chance to work with a leading sales, marketing, and business growth advisor. Book your free session with Steve Mills today and embark on a journey of business success.
To get a taste of Steve Mills' insights and expertise, we invite you to watch his informative videos. These videos cover a range of topics related to sales, marketing, and business growth. By watching them, you'll gain valuable knowledge and a preview of what you can expect from your one-on-one session with Steve. Prepare to be inspired and motivated to take your business to new heights.
Remember, opportunity knocks but once. Seize this opportunity by booking your free Sales and Marketing Strategy Session with Steve Mills today. Take the first step towards achieving your business goals and unlocking your true potential.