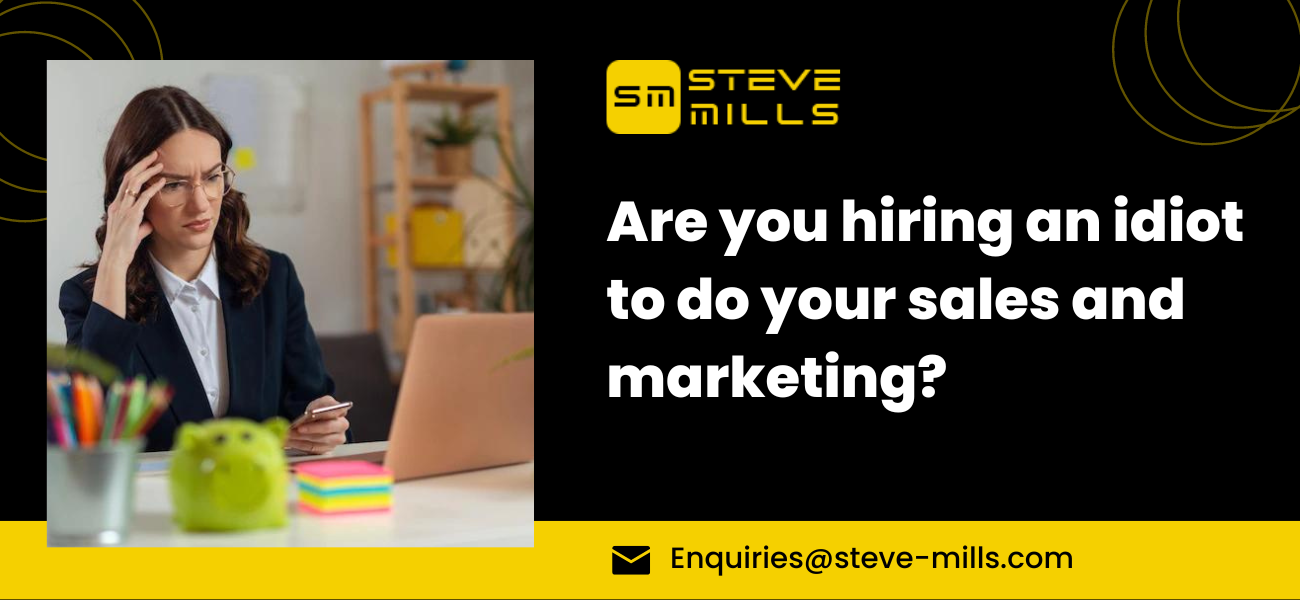 December 17, 2021

Steve Mills

0
Let me first clarify what I mean by an idiot.
What I mean is that if you are a business owner and you are responsible for your own sales and marketing, then you may be employing a 'sales and marketing idiot'. Let's face the facts! If you have not done extensive training in sales and marketing, you have not really got much experience in it and nor do you devote much time to it, then you are probably not the best person to be doing it.
Let me be clear. I am sure you have lots of skills that I don't have. You might be a skilled HR Manager, lawyer, accountant, hairdresser, or fitness coach. All of which if I tried to do for myself, I'd be an idiot.
Look at it this way…
If you applied for a job at your company as head of marketing and you said that you had no experience, and you'd done no training, would you give yourself that job? No, of course you wouldn't and yet most business owners who are responsible for sales and marketing have done little, or no training in it. In fact often:
They don't like doing it
They don't understand it
They don't have the time to do it anyway
So what happens is that in many small businesses, marketing:
Does not get done
Leads are left on the table
Calls get made either too late, or not at all
Knowledge and expertise is lacking
Results are poor
Money is wasted in marketing that does not work
Profits are down
Is often reduced to a level where the company relies on word of mouth and networking and so end up losing out on a small fortune in lost sales
Just ask yourself these questions:
Answer them on a scale of 1 to 10, with one being terrible, five being average, and ten being outstanding:
Where are you in your skill and knowledge level with regards to:
LinkedIn Advertising
Google Adwords
Re-marketing
Geo Fencing
Writing and implementing a marketing plan
Developing a sales system
Copywriting
Not happy with your results?
The question is – What are you going to do about it in 2022?
Step 1 – Watch this video
Step 2 – Book a meeting with me to discuss your sales and marketing results. BOOK HERE.
Step 3 – Sign up to RESULTS Mastery